Second chapter of Buenos Aires battle over pension overhaul; 24 hour general strike
Tuesday, December 19th 2017 - 12:50 UTC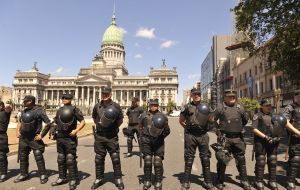 Police and protesters clashed on Monday outside Argentina's Congress as lawmakers debated a proposed pension overhaul that has angered retirees and prompted union leaders to wage a general strike.
Demonstrators threw bottles, rocks and gasoline bombs, while police in riot gear responded with tear gas, rubber bullets and jets of water. Authorities said 48 people had been arrested and 149 were injured, including police officers, retirees and journalists.
The measure, which already passed the Senate, is part of a series of economic changes pushed by the government of President Mauricio Macri to reduce the government's high deficit. Union leaders and social activists complain the legislation would cut pension and retirement payments as well as aid for some poor families.
Argentina's largest union began a 24-hour general strike at noon Monday to protest the bill, which was being debated in the lower Chamber of Deputies. Hundreds of airline flights were grounded in the Argentine capital due to the stoppage.
A debate on the measure was suspended last Thursday due to similar violent clashes.
The government later amended the proposal to include a bonus payment for some retirees. But critics said it was not enough.
"The bonus payment is a joke," said Juan Carlos Schmid, a leader of the CGT union. The measure "is illegitimate and will cause a waterfall of lawsuits against it."
Demonstrators in several neighborhoods of Buenos Aires banged on pots Monday night to protest the measure. The protests hold deep symbolism for Argentines, who recall the country's worst economic crisis in 2001-2002, when pot-banging marches forced presidents from office.
Since taking office in 2015, Macri has vowed to rein in government spending and revive Argentina's lagging economy. But his ordering of job cuts and the cutting of utility subsidies has fueled labor unrest.
In October, the conservative leader announced that he would seek more sweeping changes in tax, education and labor after his governing coalition scored a resounding victory in congressional elections.