President Maduro "cries" for Argentina and pledges to work for the people
Thursday, December 21st 2017 - 10:05 UTC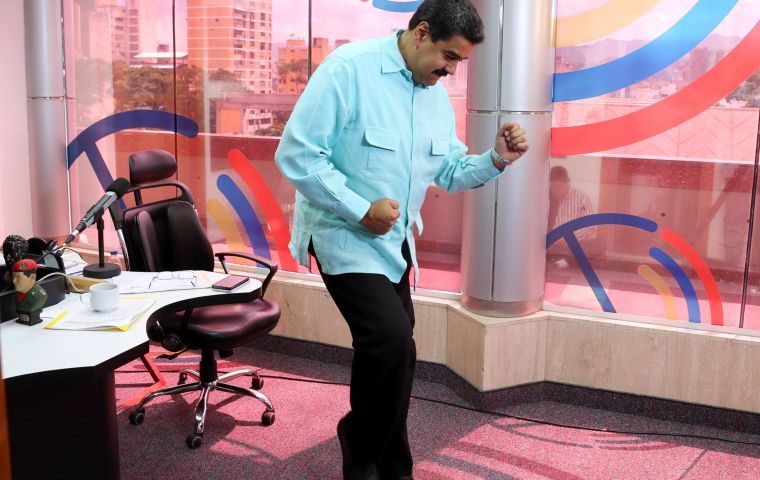 The president of Venezuela, Nicolás Maduro, condemned the repression carried out by the Argentine security forces of president Mauricio Macri during the debate in Congress of the pensions' reform system, and underlined that the television reports from Buenos Aires called on him to work ever harder for the benefit of the people.
"What they are doing in Argentina should not be done, taking retirement rights from the elderly, and increasing the retirement age for women to 65 and to 70 for men: it is a mockery like putting a hand in their pockets to take away their retirement" Maduro said on Wednesday.
Speaking during the official program "La Hora de la Salsa", broadcast by Radio Miraflores (Presidential Palace), Maduro described how sad and miserable what he was seeing made him feel, but added that the repression in Argentina also encouraged him "to defend the rights of the people even more".
"When there are economic difficulties, the first thing the oligarchy thinks of, together with the International Monetary Fund, is to stick their hand in the pockets of the people and take their pensions; the following step is reducing wages and finally throw them out of their jobs", he said.
Despite the protests, the Argentine Congress approved the reform last Tuesday with 127 votes in favor, 117 against and two abstentions. The new law changes the formula for calculating social benefits, which, according to the opposition, will affect 17 million people.
Presidents Maduro and Macri don't get along particularly since Kirchnerism was removed from office two years ago. The Venezuelan leader has appealed to a litany of names and insults, while Macri describes the Venezuelan regime as a dictatorship which persecutes the opposition, ignores human rights and holds hundreds of political prisoners.