Antarctica cruise revolution: hybrid electric LNG powered icebreaker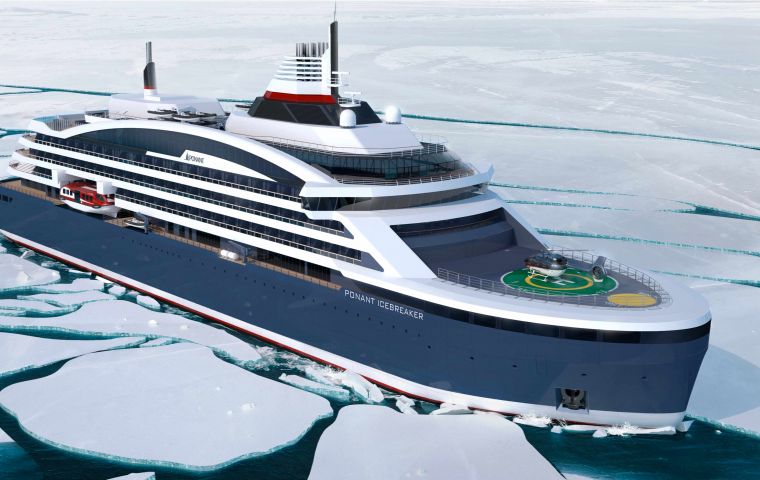 French luxury shipping line Ponant announced a world first with a hybrid electric-LNG powered icebreaker. The luxury vessel promises to deliver around 300 passengers to places never before visited by cruise passengers in ultra-luxury – and with the least damage to the environment.
The announcement underscores how cruise lines are working hard to attract a younger, more adventurous and discerning market with destinations and an emphasis on environment.
VARD (Vard Holdings Limited), the Norwegian subsidiary of the Italian shipbuilder Fincantieri, will build the icebreaker, delivery of which is scheduled for 2021.
Ponant is claiming the ship is the first ever PC2 Polar Class luxury cruise ship designed to explore the extreme regions of the northern and southern hemispheres.
They maintain the technology will allow her to sail "in total safety and the greatest of comfort" through an ice floe that is more than 2.5 meters thick and compression ridges of more than 10 meters.
It will reach inaccessible sites of Antarctica like the Weddell Sea, Charcot and Peter I islands. Final itineraries are being worked out.
The ship has two helicopters and a fleet of Zodiac dinghies, very large panoramic suites, personalized service, gastronomic cuisine and a spa. She has 135 staterooms with panoramic views of the wildlife, which includes emperor penguins, whales and more.
There will also be a science base to the journeys which will add to the environment credentials of the vessel. She will carry naturalist guides and scientists. There will be a laboratory for research or operational oceanographic missions.
Ponant is own in-house expedition is designing the journeys "with the greatest respect for the environment".
Ponant is an executive member of the IAATO (the International Association of Antarctic Tour Operators). The purpose of the IAATO is to promote responsible tourism in the Antarctic. Its regulations include directives on the number of passengers allowed to land and on the specific rules to respect (maximum distances for approaching wildlife, briefings for passengers, crew members and expedition personnel, the Antarctic experience of the expedition personnel, emergency and medical evacuation plans).
In the Arctic, Ponant is also member of the AECO (the Association of Arctic Expedition Cruise Operators), which is dedicated to responsible, environmentally friendly and safe tourism.