"Operación Genesis" calls to rebellion of military and police forces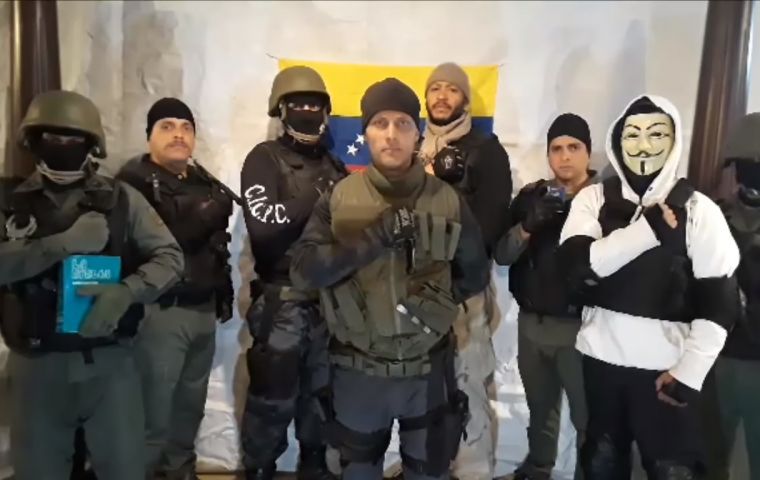 "Venezuela: God and Christ gave us the victory. Lets go to the streets to take our freedom" says Oscar Pérez, an ex-inspector of the CICPC, the national police force in a new video diffused by himself with a group of rebellious officials. In the video he calls on the population and the national security agencies to join them in the fight and rebel against the regime of Nicolás Maduro.
Some days ago, Pérez and a group of ex officials appears in other video taking a command squad of the Bolivarian National Guard performing the "Operación Genesis" (genesis operation) where they took their guns and they keep them in custody accusing them of being "irresponsible" for being partners in crime due the humanitarian crisis that suffers the country.
Today, in a new video where some of the officials carries bibles and copys of the Venezuelan constitution in their hands, one of Oscar Pérez's partner calls on Bolivarian National Armed Forces (FANB) to not to fear and defend the citizens; based on constitution's articles 333 and 350 wich says "(...) The people will ignore any regime, legislation or authority that goes against democratic values, principles and guarantees or undermines human rights".
Although the mass protests against Nicolás Maduro's regime in mid-2017 cooled down and did not shed much light, leaving a very fragmented opposition, more than 150 protestors dead, controversial elections and a fraudulent National Constituent Assembly. A new idol was born from a part of the Venezuelan opposition when he went out with his uniform and a police intelligence helicopter flying over Caracas and bombarding with grenades the Supreme Court of Justice.