Argentine Senate approves tax reform and 2018 budget; economy expanded 0.2% in October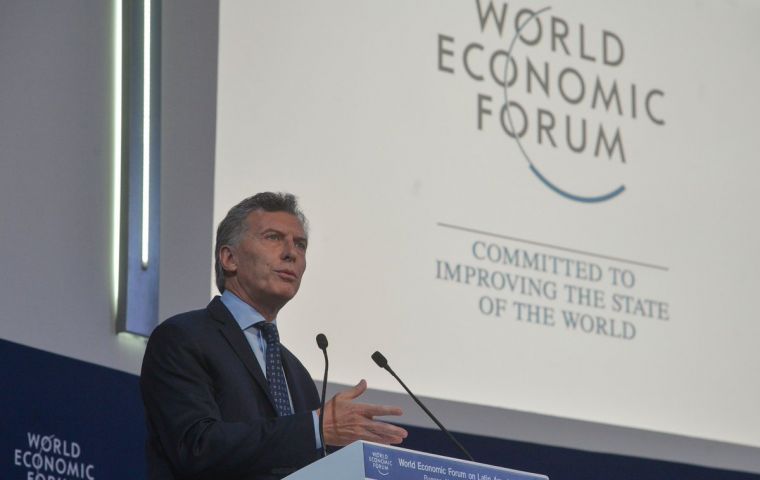 Argentina's Senate on Wednesday gave final approval to the government's tax reform and 2018 budget plan, part of President Mauricio Macri's push to cut business costs and attract investment to Latin America's No. 3 economy.
Macri was elected in late 2015 with a mandate to free the markets by ditching the heavy controls put on the economy by the previous government. The 2018 budget bill foresees economic growth of 3.5% and average inflation of 15.7%.
Last week Congress approved Macri's pension reform plan, part of his campaign to cut Argentina's fiscal deficit to 3.2% of GDP by the end of 2018 from 4.2% currently.

The pension reform debate prompted violent protests outside of Congress and a 24-hour general strike by labor unions that accuse Macri of cutting benefits to already-struggling pensioners while lowering corporate income taxes.
Argentina's economic activity expanded 5.2% in October compared with the same month last year, government data showed on Wednesday, bringing the country closer to the level that would trigger a payout of growth-linked bonds.
South America's No. 2 economy expanded a cumulative 2.8% in the first 10 months of the year, government statistics agency Indec said.
Growth of more than 3% this year would prompt payouts of more than US$2 billion on gross domestic product (GDP) warrants issued as part of debt exchanges in 2005 and 2010 following Argentina's massive default in 2002.
Confirmation of whether or not the government will pay will not come until the final 2017 GDP figure is revised in the second half of next year.
The economy grew 0.2% in October compared with September, the data showed. Growth was driven by an 18.8% expansion in construction activity, 6.8% growth in wholesale and retail commerce, and a 4.3% increase in manufacturing output.
This year's recovery, following a deep recession last year, helped President Mauricio Macri's coalition sweep legislative elections in October, providing a boost to his business-friendly reform agenda following more than a decade of populist rule.