Argentina increases inflation targets for 2018/19, closer to private estimates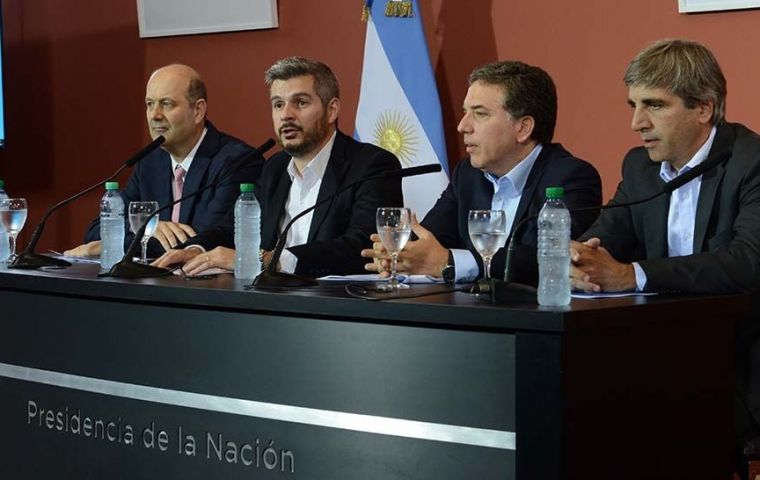 Argentina changed its inflation target for 2018 to 15%, up from the central bank's previous goal of 8-12%, Treasury Minister Nicolas Dujovne said on Thursday, raising expectations for interest rate cuts. The government will postpone by one year its goal of lowering inflation to 5%, pushing it back to 2020, Dujovne said.
The 2019 target will be 10%. Consumer prices rose 21% in the first 11 months of 2017, above the central bank target for 12-17% inflation for the year.
The shift in next year's inflation target brought it closer to market expectations of 16.6%. It prompted a 3.18% drop in the peso currency which fell below 19 Pesos per U.S. dollar for the first time in history, amid expectations of lower interest rates.
The bank has hiked its policy rate to 28.75% this year to fight inflation, prompting concerns that rising financing costs could stifle growth.
"This change of the target allows us to recalibrate that monetary policy, because now it has to be oriented toward achieving the 15% target, not 10%" central bank Governor Federico Sturzenegger said at a conference.
The change came as President Mauricio Macri's government planned further cuts to utilities and transportation subsidies, which will help cut the primary fiscal deficit to 3.2% of GDP next year but will contribute to inflation by hiking consumers' fees.
Lower inflation is a key element of Macri's plan to attract investment and boost growth to an expected 3.5% next year. His tax and pension overhauls recently passed Congress despite harsh opposition criticism, and cabinet chief Marcos Pena said on Thursday Congress would take up labor and capital markets reform legislation in February.
A Treasury Ministry source said the change would give the central bank "more flexibility" with interest rates, and that the new levels would provide a more realistic starting point for upcoming annual salary negotiations.
"The targets had lost credibility, so they no longer served to anchor expectations," said the source.
In order to continue fighting inflation, Sturzenegger said the central bank needed to keep reducing transfers to the executive branch to help finance its deficit. Dujovne said the primary fiscal deficit target would fall to 1.2% of GDP by 2020, down from 4.2% of GDP this year.
The central bank will transfer US$7.3 billion to the Treasury in 2018 and US$3.3 billion in 2019, Finance Minister Luis Caputo said. He added that total financing needs are US$30.1 billion next year and US$26.1 billion in 2019.