Argentina's Merval breaks the 30.000-point barrier and ends 2017 gaining 77%
Friday, December 29th 2017 - 09:38 UTC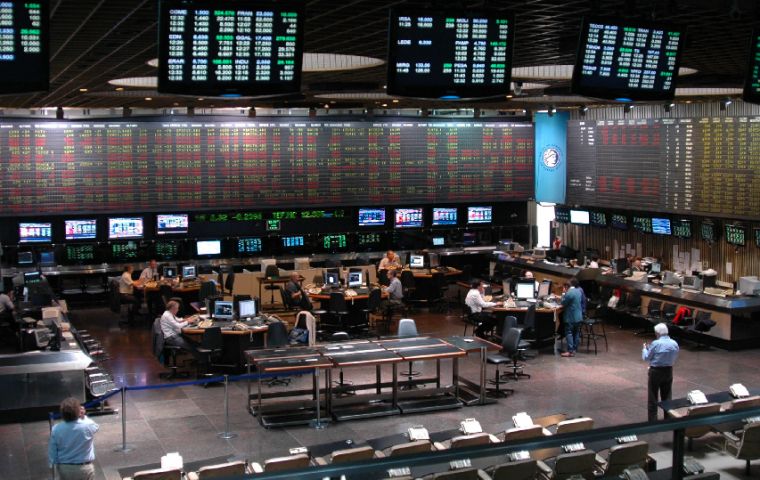 Merval, the benchmark stock market index in Argentina, ended Thursday's last trading session of 2017 above the 30,000-point barrier for the first time in history. The index rose 2.84% to 30,024.24 after the local government increased the inflation target for the next couple of years, but reinforced its commitment to lower fiscal deficits in the future.
Analysts said that the revised economic targets and the fact that President Mauricio Macri managed to pass all the promised reforms in Congress helped traders to maintain their optimism.
The government of Argentina increased the 2018 inflation goal after failing to keep prices inside the 12% to 17% target range this year. Annual inflation in Argentina fell to 22.4% in November, from 22.7% in October, prompting the country's central bank to keep its main interest rate unchanged at 28.75%. Finance Minister, Nicolás Dujovne, said that the new targets reflect the country's economic reality.
The Argentine government also confirmed that it would strengthen its fiscal effort in 2018 with a primary deficit target of 3.2% of the country's GDP for the next year. In 2017, the primary deficit target was at 4.2%.
Traders also welcomed data published earlier on Thursday showing that the construction sector activity rose 21.6% in November from a year before and that the industrial sector activity was 3.5% higher in the same comparison.
The Merval had a weekly gain of 3.77%, a monthly rise of 11.59%, a quarterly increase of 15.13% and was 77% up in 2017.
The locally traded US dollar was 4.14% higher, ending the day at 19.20 pesos - a record high. The high seasonal demand for the currency, coupled with adjustments to the inflation target, helped to weaken the peso.
Argentina's industrial output rose 3.5% in November versus the same month last year, according to data released on Thursday by the official Indec statistics agency. The country's Senate on Wednesday approved the government's 2018 budget plan, which foresees economic growth of 3.5% next year.