US withdraws support for the search of the ARA San Juan submarine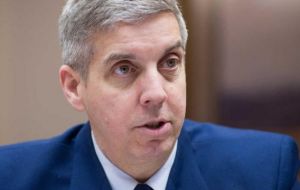 The United States Southern Command announced the U.S. was withdrawing support for the mission to find the Argentine submarine that went missing last month with 44 aboard in the South Atlantic.
"On behalf of the people of the United States, we offer our respects to the families of the crew of A.R.A. San Juan and the people of Argentina," Rear Adm. Daniel B. Abel, SouthCom's director of operations, said in a statement.
The U.S. will begin to drawing down operations that were assisting in the search, SouthCom said, but Navy specialists will continue to help Argentina with data analysis.
With a crew of 44 aboard, the 216-foot, diesel-electric powered San Juan was en route from Ushuaia to Mar del Plata about 250 miles southeast of Buenos Aires when the last communication was recorded on Nov. 15.
The San Juan's captain reported that water had entered the snorkel and caused one of the submarine's batteries to short circuit. The captain later communicated by satellite phone that the problem had been contained, the Argentine navy said.
Several hours after the last communication, the Comprehensive Nuclear Test Ban Treaty Organization, based in Vienna, said that two of its hydro-acoustic stations detected an "unusual signal" deep in the Atlantic near the submarine's last known location about 125 miles off the Argentine coast.
The Organization, which monitors for nuclear events, said an analysis of its data showed that the signal was consistent with an explosion. The US Navy reached a similar conclusion from its own analysis. The US joined the Argentina-led international search efforts for the German-built San Juan on Nov. 17.
At its height, US contributions to the search and rescue effort included three advanced aircraft, over 200 search and rescue personnel, four submersibles, one specialized underwater rescue unit, one ship, and more than 400 sonar buoys dropped in support of the operation, SouthCom said.
The ship was the R/V Atlantis, an oceanographic research ship owned by the U.S. Navy and operated by the Woods Hole Oceanographic Institution.