Democratic Unity Table (MUD) recognizes not having reacted efficiently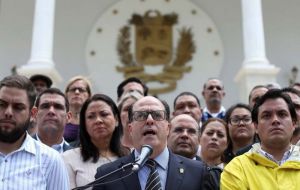 The main coalition of opposition parties, Democratic Unity Table (MUD), made this Friday a self-critical statement on its balance of 2017 in which it admits not having reacted efficiently to the people suffering, in addition to not having been able to accompany the people who have protested these days for lack of food and other items
The MUD qualifies this as a "serious flaw" that it must face and reverse, numerating some challenges they have for 2018, among which are having a single candidate for the presidency. They also expressed that "Never before in its republican history, Venezuela had had such a sad and painful end of the year and a difficult and dangerously uncertain beginning of another year".
They admitted, moreover, that they could not be able to present a unitary position before the municipal elections of December 10th because one of the 4 major parties of the alliance signed up for it, while the other 3 did not, as they considered that there were no electoral guarantees.
They point out, on the other hand, that every day the crisis worsens and that every citizen struggles for the "minimum levels of survival" to be able to live in Venezuela, also expressing that "from the social point of view, Venezuela is heading quickly to the precipice".
They concluded their statement saying that Venezuela "has today the highest inflation in the world and the only hyperinflation on the planet, the most severe economic decrease in the region, the most acute shortage of food and medicine in Latin America, the highest homicide rate in the world and, in consequence, Venezuela is the poorest nation in terms of income of the entire continent".