PM May New Year message: more Brexit, and promises of focus on schools, police and the NHS
Sunday, December 31st 2017 - 06:09 UTC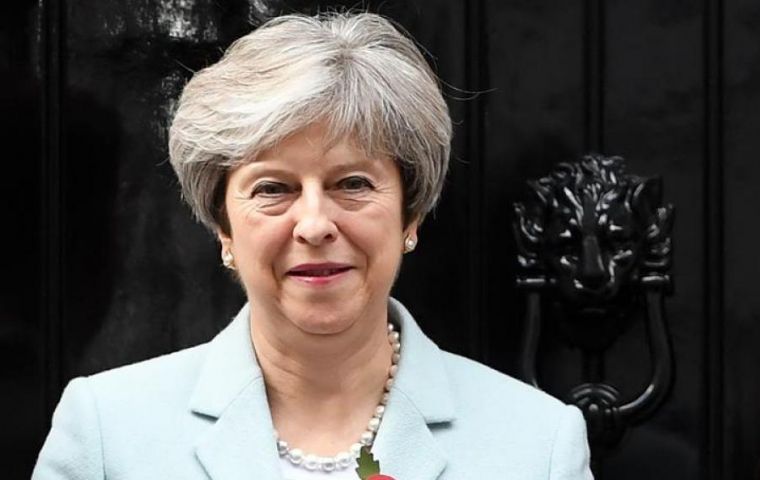 Britons will feel "renewed confidence and pride" in 2018, Prime Minister Theresa May has said in her New Year message. The prime minister said that while Brexit will be "crucial" in the coming year, it is "not the limit" of the government's ambitions, and it will focus on schools, the police and NHS to change people's daily lives.
Whilst 2017 was a turbulent year for Mrs. May, she described it as one of progress, with the first stage of Brexit talks completed in December.
"Most people just want the government to get on and deliver a good Brexit, and that's exactly what we are doing", she said.
Mrs May said 2018 would also see her move closer to her goal of a "stronger and fairer" society.
She said the government will "build more good schools" and more homes, "so housing becomes more affordable", while also working to "enhance our natural environment for the next generation".
She acknowledged that 2017, during which she called a snap election, only to lose the Conservative's Common's majority, was a challenging year.
"That is true for each of us personally," she added. The prime minister also lost three senior cabinet members to scandal during 2017. However, she said: "The real test is not whether challenges come; it's how you face them.
"Whether you allow a task to overcome you, or tackle it head on with purpose and resolve."
Mrs May has previously said that she "will not be derailed", following her government's defeat on the EU Withdrawal Bill in early December.
On Brexit her year ended better than expected, however, when she reached a deal with the EU that concluded the first stage of negotiations and will allow the second to get under way in the New Year.
In her message, the prime minister noted that 2018 is the 100th anniversary of the granting of women's suffrage, saying the occasion should be marked with a "vow to eliminate all prejudice and discrimination from our society",
She also drew attention to the 70th birthday of "our precious NHS" and defended the Conservatives' running of the health service from frequent criticisms about a lack of funding.
"We will continue to invest in our NHS and ensure it can deliver a world-class service now and for generations to come," she said.
In November, NHS leaders warned that an extra £1.6bn for frontline health services, announced in the budget, was not enough to tackle lengthening waiting times.