Temer paves the way for the privatization of jumbo power company Electrobras
Sunday, December 31st 2017 - 10:32 UTC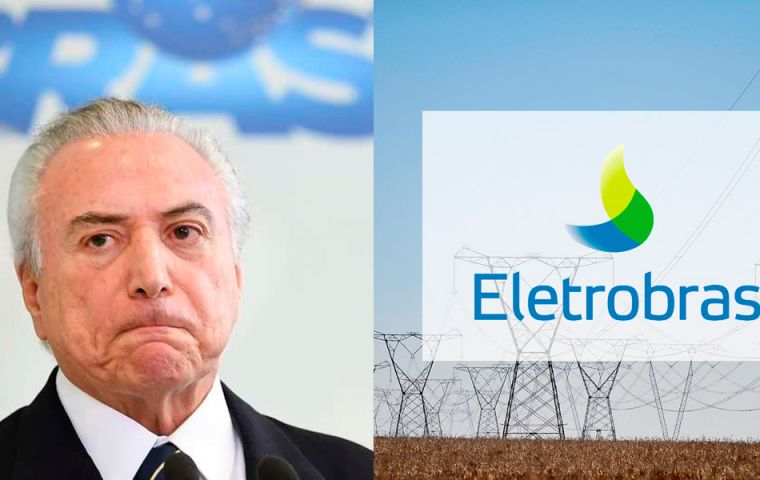 Brazilian President Michel Temer signed a measure that paves the way for the privatization of Eletrobras, Latin America's largest power company, according to a government official.
Eletrobras can now join the ranks of government-run businesses that Brazil's privatizing, with a decree that's ready to be signed, according to Paulo Pedrosa, executive secretary for the Ministry of Mines and Energy. Its shares jumped as much as 5.5% in Sao Paulo.
The provisional measure, kick starting the formal process of selling the state's controlling 67% stake in the utility giant, comes as Temer tries to fix a deep budget crisis. He's seeking to attract investors to jump-start the economy following prolonged political turmoil that's included one president being impeached, another charged with corruption and dozens of executives and politicians imprisoned over a massive kickback scheme.
It also creates conditions for the sale of Eletrobras's indebted distribution units, according to Pedrosa. Those six units should be sold off by the middle of next year, a key step in attracting investors for the overall utility.
The planned selloff is also part of a broader effort to overhaul Brazil's energy sector. A new regulatory framework is geared toward undoing interventionist policies created under former leaders Luiz Inacio Lula da Silva and Dilma Rousseff. Seven out of 10 Brazilians are against the privatization of state-owned companies, according to pollster Datafolha.