President Bolsonaro vows to tackle corruption, crime and economic mismanagement
Wednesday, January 2nd 2019 - 04:55 UTC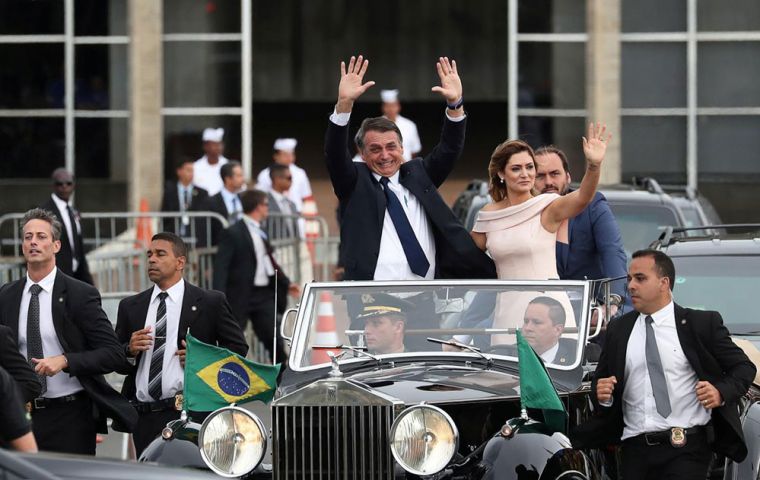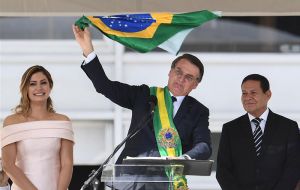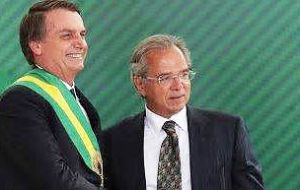 Brazil's newly inaugurated President Jair Bolsonaro said on Tuesday his election had freed the country from "socialism and political correctness," and he vowed to tackle corruption, crime and economic mismanagement in Latin America's largest nation.
In his first remarks as president before Congress, Bolsonaro pledged to adhere to the Constitution and democratic norms, but in his final speech before a crowd in Brasilia from the Planalto palace, next to his vice-president, an ex general, he spread out a Brazilian flag pledging the "green and yellow colors forever", and "never the red color, I swear upon my blood".
The crowd yelled in support of "the Captain", and he replied with his campaign's rallying cry: "Brazil above all, and God above all things".
A seven-term congressman who spent decades on the fringes of Brazilian politics, Bolsonaro was swept to power in October by voters' outrage with traditional political parties, and rampant street crime making him Brazil's first right-wing president since the military dictatorship.
In effect the mainstream parties following more than four years of graft investigations that laid bare the largest political corruption scheme ever discovered, were trounced, reshaping Brazil's political landscape and polarizing Congress.
However investors hope Bolsonaro's free-market stance will reinvigorate Brazil's economy, the eight largest in the world, while environmentalists and rights groups are worried he will roll back protections for the Amazon rain forest and loosen gun controls in a country that already has one of the world's highest number of murders.
"This is the beginning of Brazil's liberation from socialism, political correctness and a bloated state," Bolsonaro, said in an address to the nation made after he donned the presidential sash.
Following a knife attack during the presidential campaign that left Bolsonaro hospitalized for weeks, security was tight for his inauguration. Some 10,000 police officers and soldiers were deployed on the streets of Brasilia, as Bolsonaro and his wife rode in an open-topped Rolls-Royce to Congress and then to the seat of the Executive, Planalto.
Along the short tour of the new president thousands of supporters, many with the Brazilian flag draped around their shoulders, cheered and chanted "the captain has arrived!".
"We have the great challenge of taking on the effects of an economic crisis, of facing the distortion of human rights and the breakdown of the family," he said. "We must urgently end ideologies that defend criminals and penalize police."
At the joint session of Congress, Bolsonaro called on lawmakers to help him "free the nation definitively from the yoke of corruption, crime, economic irresponsibility and ideological submission."
On the economic front, he promised to open foreign markets for Brazil and enact reforms to reduce a huge budget deficit, putting government accounts on a sustainable path.
In foreign policy Bolsonaro plans to realign Brazil internationally, moving closer to the policies of Western leaders, particularly U.S. President Donald Trump, who sent Secretary of State Mike Pompeo to his inauguration. A few minutes after delivering his inauguration speech to Congress, a Twitter message from president Trump was out, "congratulating Bolsonaro on his inauguration speech", underlining "The USA is with you".
Attending his inauguration were the presidents of Paraguay, and Uruguay, Mario Abdo Benites and Tabare Vazquez, both Mercosur partners, but Argentina sent its foreign minister Jorge Faurie. Other leaders included Chilean president Sebastian Piñera, Honduras president Juan Orlando Hernández, Bolivia president Evo Morales, Peruvian head of state Martin Vizcarra, Israel's prime minister Benjamin Netanyahu and Hungary's president Viktor Orban. All South American countries sent special representatives with the exception of Venezuela which was disinvited. Be it not for Portuguese president Marcelo Rebelo de Souza, no special representatives from the EU, Germany, France, Italy or UK were present. Beijing sent a member of the People's congress presidium, Ji Bingxuan, while Russia the head of the Duma (Russian Congress) and Washington Secretary of State Pompeo.
Backed massively by conservative sectors of Brazil, particularly Christian evangelical churches, Bolsonaro anticipated he would sponsor "family values", free Brazilians from the claws of ideology and remove sex education from public schools, opposing what he calls "cultural Marxism" introduced by recent leftist governments.
One-third of his Cabinet are former army officers, mostly fellow cadets at the Black Needles academy, Brazil's West Point, all outspoken backers of the former military regime. But his cabinet also includes what he described as a group of "non political" technicians, headed by liberal Chicago-educated economist Paulo Guedes, who has promised quick action in bringing Brazil's unsustainable budget deficit under control.
Guedes plans to sell as many state companies as possible in a privatization drive that he forecasts could eventually bring in up to 1 trillion Reais (some US$ 220 billion). He has also promised to eliminate the so called "Brazil Cost", which makes doing business difficult and expensive: "there are hundreds of bureaucratic governing bodies across Brazil, regulators...we will address this"