London City airport with record of annual passengers last year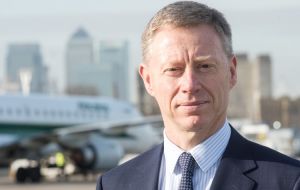 London City has published its official passenger figures for 2018, showing the number of travellers passing through the airport last year totalled a record-breaking 4,800,190.
The volume of annual passengers comprises both arriving and departing customers – and is the highest ever recorded for the 31-year old airport, located in the fast-growing Royal Docks area of London.
It represents a 6.4% increase in passengers year-on-year, compared to the 4,511,107 passengers in 2017.
The number of annual flights in 2018 totaled 75,271 air traffic movements, slightly fewer than in 2017 with the passenger growth being achieved through larger aircraft and higher load factors.
The busiest month was July, when 471,519 customers travelled – reflecting how an increase in leisure routes from London City is diversifying the mix of passengers beyond business travel.
Leisure passengers, which include tourists using the airport as the most convenient gateway to visit the capital, now make up around half of all passengers.
The most popular outbound leisure destinations in 2018 were Florence, Ibiza, Malaga and Mallorca with city breaks to Berlin and Lisbon also in the top 20.
Robert Sinclair, chief executive of London City Airport, said: "In what was a remarkable year for London City Airport, we have seen demand reach a new peak, our airlines invest in new services, and passenger satisfaction increase.
"It's proof that the fundamentals of London City – speed, convenience, connectivity and excellent customer service from the heart of London – remain very strong."
He added: "As we take forward a transformative £500 million development program, which will be complete in 2022, London City Airport can play a much bigger role supporting this thriving international city, connecting London with established and emerging markets and serving a broader range of both leisure and business passengers."