US and Brazil agree to lower barriers to agricultural trade, mainly wheat and beef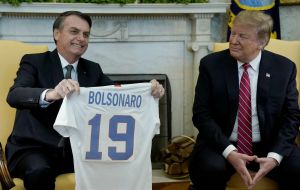 The United States and Brazil have agreed to steps aimed at lowering barriers to agricultural trade, focusing on wheat, pork and beef, the presidents of the two nations said in a joint statement on Tuesday.
Brazil will allow the United States to export 750,000 tons of American wheat with no tariffs, while the two countries agreed to "science-based conditions" to allow the United States to export pork to Brazil, U.S. President Donald Trump and Brazilian President Jair Bolsonaro said.
The United States also agreed to send inspectors to Brazil for a "technical visit" to audit Brazil's beef inspection system so that Brazilian beef exports to the United States could resume, the two leaders said.
The presidents also instructed their teams to negotiate a Mutual Recognition Agreement concerning their Trusted Trader programs, which will reduce costs for American and Brazilian companies.
The two leaders announced a new phase of the United States-Brazil CEO Forum, and welcomed the creation of a US$100 million Biodiversity Impact Investment Fund that will catalyze sustainable investment in the Amazon region. As leaders of two of the fastest-growing energy suppliers in the world, the Presidents agreed to establish a United States-Brazil Energy Forum to facilitate energy-related trade and investment.