Argentina does not recognize UK as a coastal state but will jointly address high seas catches in the South Atlantic
Thursday, May 16th 2019 - 14:58 UTC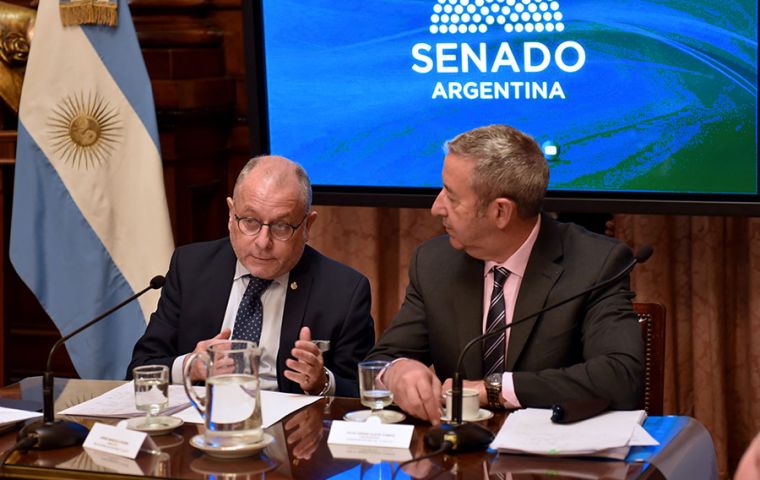 Foreign minister Jorge Faurie strongly denied in Congress on Wednesday that the Argentine government was ready to "handover" the disputed Malvinas Islands to the British, and likewise defended the current proximity policy of president Mauricio Macri administration towards the South Atlantic issue.
Several Senators from the Foreign Relations committee claimed that Argentina was allegedly in negotiations to consider the UK as a coastal state, but minister Faurie vehemently replied that "nor president Macri or any official from his administration has ever worked to deliver or handover the Malvinas".

"There are no grounds to sustain that Argentina is discussing the handing over of its natural resources", insisted Faurie in reply to criticisms from Tierra del Fuego governor Rosana Bertone who belongs to the Peronist opposition party. Besides the Falklands figure as part of the Tierra del Fuego province insular territory.
Bertone argued that the Macri administration was working to recognize the UK as a coastal state, as part of a major fisheries and EEZ discussion referred to the Falkland Islands, and if this was the case, "It would mean the end of our claim over the Malvinas" insisted the Tierra del Fuego governor.
Recognizing the UK as a coastal state would mean for Argentina the recognition of Falklands sea coast and jurisdiction over those disputed waters.
But Faurie rejected Bertone's claim of fisheries negotiations with the UK on this field, and insisted there is no peril for Argentina's claim over the Malvinas or other South Atlantic Islands.
"The foreign ministry is well aware it cannot reach an accord with a country such as the UK, with which we have a sovereignty dispute, and we will not recognize it as a coastal state" underlined Faurie.
The minister explained that discussions refer to several countries which are involved in "abusive fishing" (such as China and Spain) at mile 201 of international waters, and the purpose is to deter this practice.
"This, said Faurie, has a direct impact on several marine migrating species which move on both sides of mile 200 and are caught in the high seas by vessels from these countries and obviously affect conservation".
Finally it must be remembered that this is presidential election year in Argentina and provinces are holding their own ballots, according to their own calendars. In the case of Tierra del Fuego, Ms Bertone's aspirations will be put on trial by voters next June 16, and Falklands/Malvinas remains as a highly emotional issue, particularly in the extreme south of Argentina and for the Peronist opposition.