Judgment to the former administrators of Pescanova considered responsible for fraudulent bankruptcy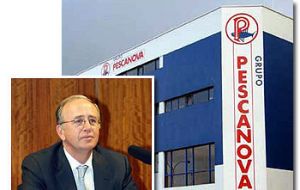 The Fourth Section of the Criminal Chamber of the National Court will judge the old Pescanova former administrators for making up the accounts of the company as of December 2, with the prospect that more than 40 sessions will be held and the procedure will be seen for sentencing in March 2020, as specified in the oral trial notice to which Europa Press has had access.
Thus, from December 2 will be sitting on the bench, the former president of Pescanova, Manuel Fernandez de Sousa, his son Pablo Javier Fernandez Andrade and other 17 people accused of making up the company's financial statements between 2009 and 2012 with the objective of hiding the millionaire losses that ended up leading to a bankruptcy.
The investigation began in 2013 and has been carried out by the Central Court of Instruction number 5, whose current head, José De La Mata, closed the investigations in June 2018 and proposed to try 19 former senior directors of the seafood group and 12 related companies for alleged crimes of falsification of annual accounts, falsification of economic and financial information, falsehood in commercial documents, fraud, punishable insolvency, lifting of assets, crime of use of privileged information and impediment of the performance of the supervising body.
The Office of the Prosecutor asks for the former president of Pescanova 28 years in prison and a fine of more than EUR 22 million; 13 and a half years with a fine of EUR 504,000 for his son, and for which Alfonso Paz Andrade was the CEO, 12 years and six months in prison and a fine of more than EUR 5 million for these events, although it should be remembered that Paza-Andrade had resigned years before precisely because he was against the management of Manuel Fernández de Sousa and some people close to him.
Meanwhile, for the parent company the prosecution seeks a fine of more than EUR 348 million for the crimes of distortion of financial information, fraud and insolvency punishable, while the auditor BDO faces EUR 45 million in concept of civil liability and subsidiarily with respect to its partner auditor Santiago Sañé Figueras, EUR 161 million.
Benefits of 15 million while losing 223
As explained by De La Mata in the oral proceedings, the annual accounts of the fishing company in 2010 and 2011 did not correspond to the reality of the economic and financial situation of the company and its group. By exercises, in 2010 the group declared a result of EUR 15,448,000 when the real amount was -222,910,000, while a year later, profits exceeding EUR 16 million were reported although the losses were around EUR 300,000.
"The situation motivated that Pescanova, instead of presenting the real situation, it was decided to alter the financial statements that periodically presented to the market, through certain irregular accounting practices, in order that the economic consequences derived from these irregular commercial operations were not recorded. in their accounting, they will not appear in their annual accounts, nor in the reports and documents that they were obliged to present in the National Securities Market Commission (CNMV)" describes the legal claim. (fis.com)