Hazardous radioactive material stolen in Uruguay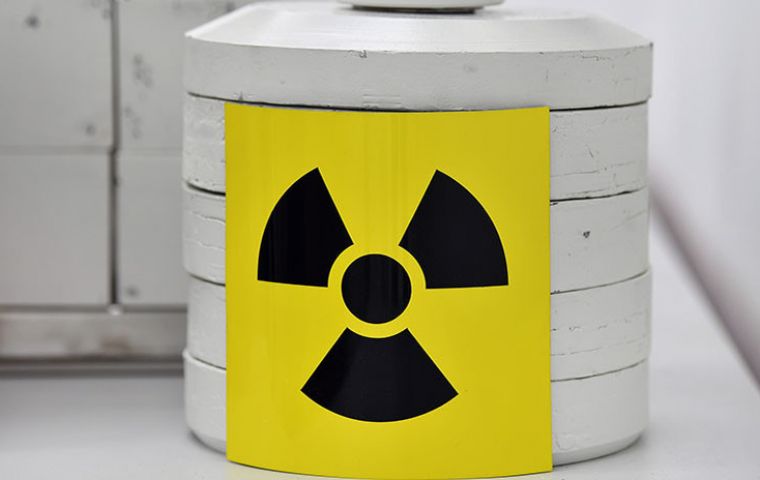 Uruguay's Ministry of the Interior Saturday issued a nationwide alert for the theft of a tub containing radioactive material. According to the communiqué, 100 millilitres of radioactive iodine (iodine 131) contained in a tub of 3 kg of lead (lead is used as shielding material to prevent the spread of radioactivity) were stolen.
The police warned the population that any possible contact with the material could cause damage to their health, both at the respiratory level and injuries to epithelial and mucous tissues.
Iodine 131, applied in adequate doses under professional supervision, is used for medical studies and treatments, especially of the thyroid gland.
Although the alert was issued on Saturday, it failed to specify when and where the actual theft had taken place.
The Police did not provide further details regarding where the material was stolen. The population is asked to contact the 9-1-1 emergency service in case of finding the product.
The Ministry of the Interior alerted the population to the theft of a tub of 3 kilos of lead containing 100 milliliters of iodine 131, a radioactive material.
The complaint was made on May 25, although the Ministry did not report the exact date of the theft.
But other sources indicated the material had been stolen from a lorry carrying a total of five tubs from Montevideo's international Carrasco Airport to the local Spanish Association.
Contact with this material can cause "respiratory problems and lesions in epithelial tissues and mucus" as expressed in the Ministry's statement.
The population was urged to contact the 9-1-1 emergency line in case of finding the missing tubes or their contents.