New setback for Argentina's economy shown in leading report
Monday, May 27th 2019 - 03:32 UTC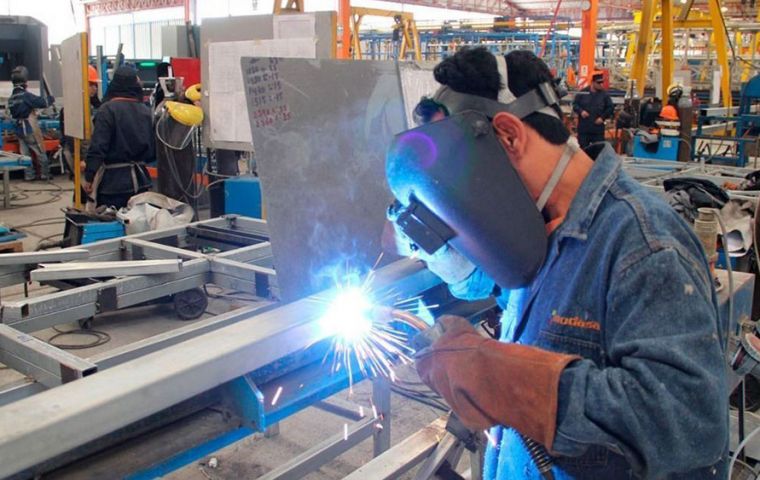 Argentina's beleaguered industrial activity fell 10.3% in April due to the peso's devaluation coupled with rampant inflation, the Argentine Confederation of the Medium-Size Company (CAME) reported over the weekend.
Manufacturing showed no signs of recovery and in April only 27.8% of the industries grew, while the use of the installed capacity fell to 57.5% and less than 30% of the companies were profitable, CAME's Monthly Industrial Survey conducted among 300 firms in the country revealed.
The sharpest annual decrease was in footwear and leather goods (-24.6%), where a lower domestic demand highly affected local manufacturers who cannot match the price/quality ratio of imported products.
Other activites affected in April were transport materials, with a 24.2% drop, non-metallic mineral products (-22.6%), wood and furniture (-21.2%), rubber and plastic (-13, 9%), and electro-mechanical and IT (-12.2%), metal manufactured products, machinery and equipment (-9.5%) and textiles and clothing (-8.8%).
Meanwhile, the softest declines were food and beverages (-2.7%), and chemical products (-4.6%).
The year-to-year 10.3% decline in April is the worst since the currency crisis of April 2018 and which caused a slowdown in the economy as well as higher inflation.
According to CAME, small and medium-sized enterprises (SME) accumulate 12 consecutive months of retraction in their output levels.
"The low levels of consumption on the domestic market, coupled with a foreign market that is also not dynamic, are narrowing any possibility of recovery of the industry. Businesses continue to shrink their operations to cut down costs trying to stay active while waiting for the market to resurge," the CAME report states.
It adds that "in April, many companies took the opportunity to liquidate their inventories with discounts in some important cases to obtain liquidity, since most sales by the entrepreneur are paid with future-date cheques that with [the current interest] rates become tradeunworthy."
According to CAME, paper, cardboard, edition and printing paper came out 2.1% better than a year ago and the sector reflected an increase in demand that was partly because it helped lower import revenues and also due to orders placed in late April.
The Pyme (SME) Industrial Production Index Pyme (IPIP) stood at 80.4 points and accumulated a decline of 8.5% in the first quarter of the year against the same period of 2018.