Markets and US businesses lobbies react negatively to Trump's tariffs on Mexican imports
Saturday, June 1st 2019 - 09:58 UTC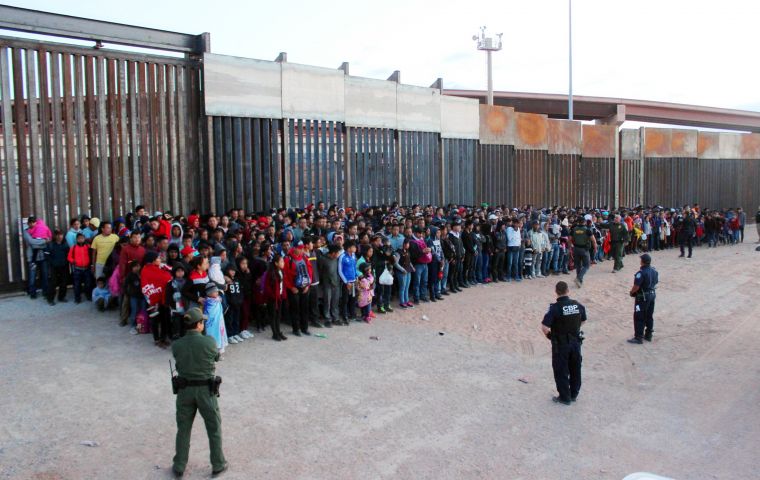 Mexico's president has insisted his government will not be provoked after President Donald Trump announced escalating tariffs on all goods unless Mexico curbed illegal migration. Andrés Manuel López Obrador described Mr Trump's slogan "America First" as a fallacy and said universal justice was more important than borders.
Stock markets saw sharp losses following Mr Trump's announcement. Trump declared a national emergency at the US-Mexico border in February. He said it was necessary in order to tackle what he claimed was a crisis with thousands of undocumented migrants crossing the US southern frontier.
Mr Trump's latest statement came a day after US border authorities in El Paso, Texas, detained a group of more than 1,000 migrants - the largest single group agents had ever encountered.
White House spokeswoman Sarah Sanders said on Friday that Mexico could have done more to stop the group - and others - as they travelled through the country.
"They could have easily broken up this group, arrested them or sent them back home, and they didn't do anything," she told reporters. We're asking Mexico to enforce their own laws to help stop the people coming in from Central America."
President López Obrador said he had ordered his foreign minister to travel to Washington. "I want to insist that we are not going to fall into any provocations, that we are going to act prudently with respect to the authorities of the United States [and] with respect to President Donald Trump," he said.
In a letter to his US counterpart, Mr López Obrador said Mexico was complying with its responsibility to avoid "as far as possible and without violating human rights, the passage [of migrants] through our country".
"President Trump: Social problems are not resolved with tariffs or coercive measures," he added.
"With all due respect, although you have the sovereign right to express this, the slogan 'United States [America] First' is a fallacy because, until the end of time, and even over and above national frontiers, universal justice and fraternity will prevail."
Foreign Minister Marcelo Ebrard confirmed on Twitter that he would lead a delegation to Washington, adding: "The treatment of Mexico is unfair and does not make economic sense to anyone."
He later tweeted that a summit to resolve the dispute would be held in Washington on Wednesday, with US Secretary of State Mike Pompeo heading the US side.
The US Chamber of Commerce, which represents three million businesses in the US, condemned Mr Trump's plan. Chief policy officer Neil Bradley said the tariffs would "be paid by American families and businesses without doing a thing to solve the very real problems at the border".
The Business Roundtable, a US body made of chief executives of major US corporations, said it would be "a grave error" and urged Mr Trump to reconsider. It warned that the move jeopardized the new US-Mexico-Canada trade deal to replace the North American Free Trade Agreement (Nafta).
President Trump's top trade adviser Robert Lighthizer had opposed the plan, the Wall Street Journal reported, also warning that the new trade deal could be affected. One source quoted by the paper said: "Lighthizer is not happy."
Mexico was the second largest supplier of goods to the US last year, with imports totaling US$ 352bn (£275bn), according to Goldman Sachs. It is known for agricultural products like avocados and tequila, but the country is also a major manufacturing hub and home to many US companies.
The country produces hundreds of thousands of cars every month, and is also home to technology and aerospace companies. It is one of the G20 economies.