Argentine homosexual bishop criminally charged for sexually abusing seminarians
Tuesday, June 11th 2019 - 09:36 UTC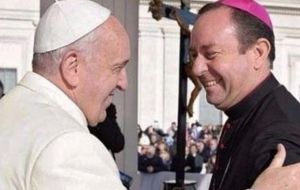 A homosexual bishop from Argentina undergoing a canonical trial has been criminally charged with sexually abusing seminarians. The prosecutor's office in the Argentine province of Salta publicized the formal charge on Friday. Bishop Gustavo Zanchetta could be facing three to 10 years in prison for "aggravated continuous sexual abuse committed by a minister of a religious organization."
Prosecutor Mónica Viazzi charged Zanchetta last Thursday with sexual abuse aggravated by his religious authority. Zanchetta was scheduled to return to Rome last Friday but authorities confiscated his passport and banned him from leaving Argentina.
He has also been required to establish permanent residence in Argentina, be present at all hearings regarding his case and stay away from his victims and their families. Zanchetta would be taken into custody immediately for violating any of these requirements.
In May, Pope Francis told Mexico's Televisa that he had received the results of a preliminary investigation into Bishop Gustavo Zanchetta and ordered the case be canonically tried by a Vatican tribunal, marking a notably different direction in dealing with Zanchetta.
In September 2015, Chancellor Secretary Luis Amancio Díaz discovered pornographic pictures on Zanchetta's phone. The pictures included gay porn involving young men and images of Zanchetta showing his genitalia and sexually gratifying himself. Using WhatsApp, the pictures were shared with third parties.
Three of Zanchetta's vicar generals and two monsignors filed a formal complaint a year later with Swiss Archbishop Paul Emile Tscherrig, the papal nuncio to Argentina.
Those reports stated that Zanchetta would "watch seminarians in their rooms at night with a flashlight, ask for massages, go into their rooms and sit on their beds, encourage them to drink alcoholic beverages, and had certain preferences for those who were more graceful [looking]."
The Vatican had been denying that the Pope had any knowledge of this as late as January, stating that they only learned of the allegations in 2018; however, Fr. Juan José Manzano, Zanchetta's former vicar general, has contradicted this denial saying that he reported Zanchetta to the Vatican in 2015 and 2017.
"In 2015, we just sent a 'digital support' with selfie photos of the previous bishop [Zanchetta] in obscene or out of place behavior that seemed inappropriate and dangerous," Manzano said. "It was an alarm that we made to the Holy See via some friendly bishops."
"The nunciature didn't intervene directly," he continued, "but the Holy Father summoned Zanchetta and he justified himself saying that his cell phone had been hacked, and that there were people who were out to damage the image of the Pope."
After Zanchetta met Francis in 2015, the Pope permitted Zanchetta to continue as bishop of Orán for another two years. Then, in 2017, as mainstream media began covering the story, Zanchetta suddenly resigned as the bishop of Orán, disappearing for months.
He reappeared in Rome as an "assessor" — a position Francis seems to have invented — for the Administration of the Patrimony of the Apostolic See (APSA), the Vatican office that oversees millions of dollars in Church real estate.