President Macri and Cristina Fernandez share similar high rejection levels
Tuesday, June 11th 2019 - 09:19 UTC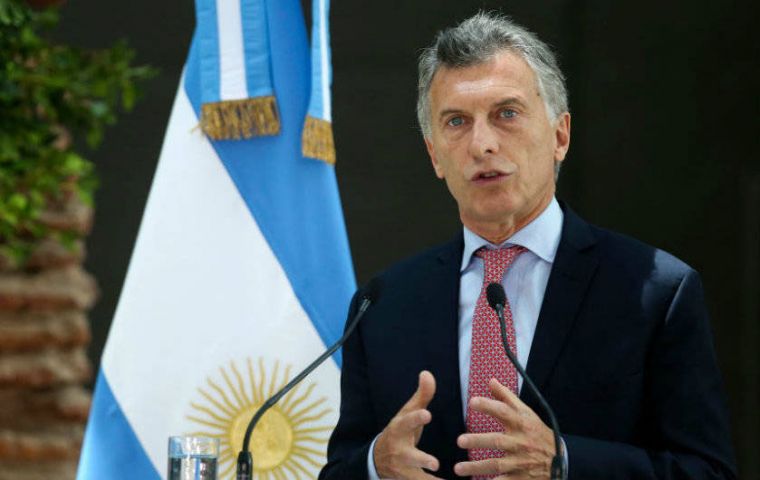 As the date approaches (end of June) for all political groupings in Argentina to have their hopefuls nominated and ready to compete in the August open, mandatory and simultaneous primaries for each party to select their candidates for the presidential election next October, spotlights are following the polarized scenario with Cristina Fernandez and her presidential candidate on the one side, and president Mauricio Macri's reelection strategy on the other.
It is for what many Argentines believe a "terrifying" option, bringing back Cristina and her gang of corrupt bullies, or keep to Macri and his very poor handling of the economy with a damaging inflation and loss of jobs.
In effect data leaked from an opinion poll, Synopsis, suggests that when people are asked who of the candidates you wish he/she does not win the October election? , both Cristina Fernandez and Macri share the same percentage: 46.5%. The rest said "another candidate" 2,5% and does not know, 4.5%.
The opinion poll also showed that Cristina Fernandez most probably wins the primary nomination and the first round of the ballotage in the presidential election, by some five points. However if the undecided were also included Macri would emerge ahead by over one percentage point.
The poll interviewed 2.254 people at national level, between May 30 and June 2, with a plus/minus 2% error margin. Likewise Synopsis insists in its questions about the level of rejection and the so called useful vote, which means how willing a person is prepared to change to avoid his no-candidate from winning.
This is when the polarization is more intense, with 49% rejecting Macri and 43.8% Cristina, in May. But when Alberto Fernandez was included in the ticket by Cristina, she and Macri shared the same rejection, 46.5%, which also means that while the president's situation actually improved, she suffered a skid.
As to whom Argentines don't wish to be elected there are some age differences and minor geography discrepancies but the gender factor is quite homogeneous. Cristina is rejected as voters age increases, while for Macri is the opposite, the younger the greater aversion.
Likewise when asked how willing to change vote to ensure that their non candidate does not make it, Cristina and Macri again almost shared the same percentage: those who don't want to see Cristina win and are prepared to make their vote useful for that purpose, reach 76.6%, and a similar situation but to avoid Macri's reelection bid, sum up to 75.5%.
Finally summing and ahead of the August primary, Cristina Fernandez and president Macri polarize public opinion but together they retain some 70% of vote intention, with 39.1% for the former president and her presidential partner in the ticket, Alberto Fernandez, while Macri collects a vote intention of 33.6%.
And in a scenario where Cristina comes ahead in the mandatory primaries voting, the situation could drastically change in favor of Macri and the relative stability of inflation and the exchange rate. Not that they have improved but at least have ceased to keep climbing, and with Cristina's record on these issues, the so called useful vote could help determine the final outcome and reelection of Macri in October or at least in the November runoff.