Bolsonaro complies with court order and apologizes to a woman lawmaker because of offensive remarks
Friday, June 14th 2019 - 08:30 UTC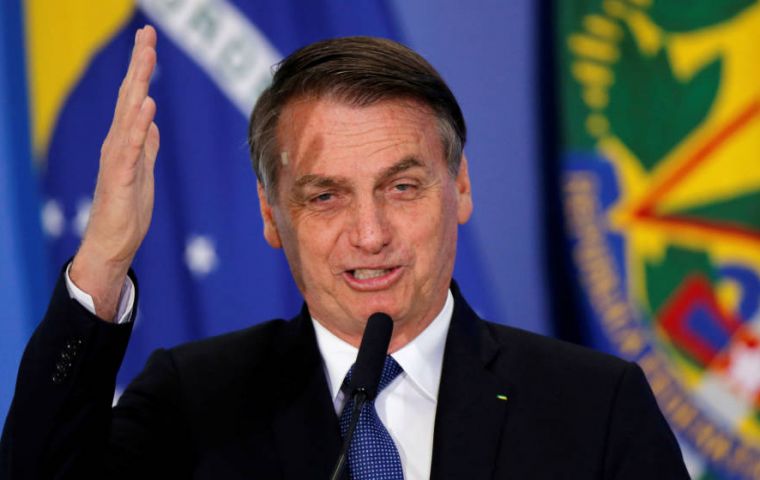 Following on a court order, Brazilian president Jair Bolsonaro issued a retraction note to opposition Congresswoman Maria do Rosário (PT-RS) because of his statements about rape. During a discussion in 2003, when Bolsonaro was still congressman, he said that Mary of the Rosary "did not deserve to be raped" because she was "too ugly".
"Due to court order, I publicly apologize for my past speeches addressed to Congresswoman Maria do Rosario Nunes". Bolsonaro added his original statement had been in response to repeated "unjustified offenses" from the Workers Party, PT, which responds to ex president Lula da Silva..
"On the spur of the moment, in an ideological clash between parliamentarians, specifically with regard to human rights policy, I recall the fact in 2013, on what, after being unjustly offended, the congressman in question, insulted me, calling me a rapist, I replied stating that she did not deserve to be raped", wrote Bolsonaro.
Bolsonaro also underlined his commitment to the protection of women, which he considers a priority and mentioned he was who drafted Bill 5.398, imposing chemical castration for sex offenders.
"This, therefore, defending the victims of these abhorrent practices of rape and other sexual crimes, has always been a standing struggle in my years as member of Congress" reads the statement.
Jair Bolsonaro closes the retraction letter recalling that his wife Michelle, was the first to speak, even before the incoming president was inaugurated, which only comes to emphasize the significance and importance of women for his administration and his record as lawmaker.
"I reiterate Brazilian women are a priority of my government which has always been and will continue to be clearly demonstrated through concrete actions