Michelle Bachelet visiting Venezuela next week to examine Human Rights situation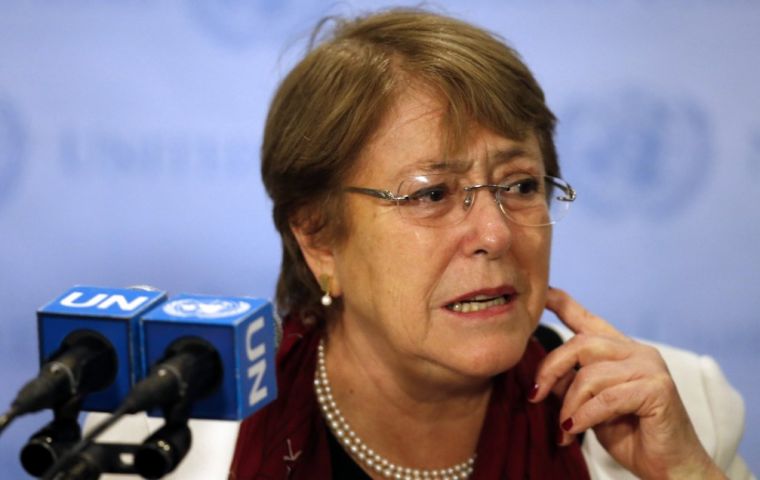 Michelle Bachelet, UN High Commissioner for Human Rights, confirmed her visit to Venezuela between June 19 and 21 to meet with President Nicolas Maduro, as well as several ministers and senior officials of his Government.
During the visit, the commissioner will verify the situation of human rights in the country and will also meet with the president of the National Assembly, Juan Guaidó, as well as with victims of human rights abuses and violations and representatives of civil society.
In the statement issued by the Bachelet Office, located in Geneva, it was detailed that the UN officer will meet with Maduro and his cabinet, the president of the Supreme Court of Justice and the representatives of the Attorney General's Office and the Ombudsman's Office.
The high commissioner of the UN will also meet with the president of the National Assembly, Juan Guaidó, deputies, and the president of the constituent assembly, Diosdado Cabello.
It is planned that the last day of her visit she will make a final statement. During her visit, Bachelet will be accompanied by UN officials Carlos de la Torre and Sara Nuera, as well as Carmen Domínguez, assistant to the high commissioner.
According to Argentine investigative journalist Juan Gasparini there will be an announcement of the possible release of political prisoners, agreed with the regime of Nicolás Maduro. Two of the UN officials would also remain in the country after the visit of Bachelet with the aim of laying the foundations of a Human Rights office that responds to the high commissioner, as happens in other countries.
It is expected that in mid-July, the high commissioner will submit an oral and written report to the UN Human Rights Council, a mandate from this body in September 2018 due to recurrent complaints of serious human rights violations in the country. and after the submission of two reports by the previous high commissioner related to the years 2017 and 2018.
In the report of Bachelet, who advanced an agenda to be discussed during his report to the Human Rights Council during the visit of the technical mission, are included allegations of torture, extrajudicial executions, forced disappearance of persons, the situation of social and economic rights, especially to vulnerable populations and public services.