Argentine authorities admit they have yet to detect the cause of the major blackout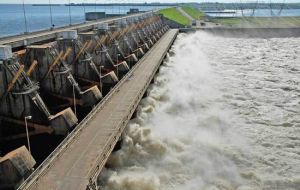 Argentina's Energy Secretary Gustavo Lopetegui described the massive blackout suffered mostly by Argentina and Uruguay, but which also affected areas of neighbouring countries, Paraguay, Chile and Brazil as "an extraordinary event that should have never happened, there are no reasons for it occurring and leaving Argentina completely in the black".
At an emergency media conference in mid afternoon Sunday to try and explain events, Lopetegui also ruled out a possible cyberattack, "there are no indications", but underlined that "if there are human responsibilities, there will be sanctions".
"At 07:07 there was a failure in the power transport system in the littoral branch, which interconnects Yacyretá and Salto Grande hydroelectric dams, something which happens often, but what was absolutely abnormal or extraordinary is what happened later, the chain of events that followed and caused the total disconnection of the grid", emphasized Lopetegui.
He explained that "total disconnection happens automatically when misbalances are detected which could cause a major damage". But "there was no alert, there is no possibility of an alert at that moment. We have a protocol for power failures, companies must present a report, and Cammesa which makes the power distribution will analyze it and we'll see what happened in this extraordinary event", insisted the Argentine official.
Lopetegui said president Mauricio Macri was closely following the situation and that in a couple of weeks, an estimate of losses and damages of the blackout will be officially published. Nevertheless Carlos García Pereira, head of one of the power companies involved, Transener, and Camessa chief Jorge Ruiz Soto anticipated that in 48 hours the first reports will be available.
"In a week's time, ten days at the most we will have a final evaluation and report of the situation", said Ruiza Soto. "We anticipate a technical problem, rather than a cyber attack. The system is complex and theses things can happen, but not at this magnitude. We have to detect it, the failure anticipation system is mostly computerized, highly sensitive, faster than any human mind. We consider it to be robust".