Bank of Estonia will celebrate bicentenary of Antarctica's discovery with a €2 coin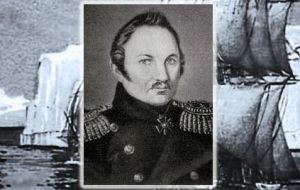 The Bank of Estonia has unveiled last 14 June the design that has been approved to mark the bicentenary anniversary of the first discovery of Antarctica, which will be celebrated in 2020, according to Coin Update News.
The bank chose the design submitted by graphic artists Tiiu Pirsko and Mati Veermets, who have previously designed Estonian coins marking the centenary anniversary of the Republic of Estonia and the silver collector's coin issued for the Estonian Song Festival in 2009.
The discovery of the continent of Antarctica is of special significance to Estonia as the Baltic German seafarer Fabian Gottlieb Benjamin von Bellingshausen (1778–1852), a naval officer in the Imperial Russian Navy, was born in Saaremaa. Bellingshausen was appointed the commander of the southern polar expedition, which left the Russian naval base of Kronstadt in the Gulf of Finland, in July 1819.
He had charge of two ships, the Vostok and the Mirny, and onboard the Vostok he included editions of all three of James Cook's voyages to keep the expedition on course. Their orders were to explore as far south as possible and to engage in scientific work. By December 1819, South Georgia was mapped, and discoveries were made in the South Sandwich Islands. Sailing further south in January 1820, Bellingshausen sighted the coast of Antarctica, but did not then realize the magnitude of his discovery.
The design, which will be shown on the national side of the circulation €2 coin, depicts the ship Vostok in which Admiral von Bellingshausen sailed around the world. The €2 commemorative coin for the bicentenary of the discovery of Antarctica is scheduled to enter circulation at the end of January 2020.