Falklands' visitors, "highly satisfied" according to TripAdvisor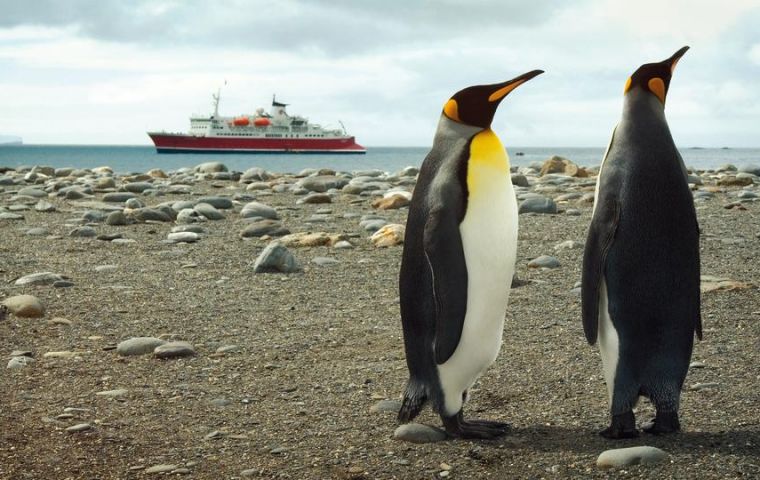 Highly satisfied is how visitors to the Falkland Islands feel according to the Falkland Islands Tourist Board's (FITB) annual assessment of TripAdvisor ratings. Executive Director of FITB Stephanie Middleton told Penguin News that there were over 4,300 ratings of accommodation, attractions, pubs, restaurants and tours in the Falklands on TripAdvisor, with 800 of those posted over the last 12 months.
The highest levels of satisfaction are for tours, achieving a score of 9.6 out of 10, up from 9.5 last year – most of those are serving cruise visitors. Accommodation in camp scored 9.4 and attractions in camp scored 9.3
Mrs Middleton said: "TripAdvisor reviews provide us with an excellent indicator of visitor enjoyment and satisfaction, and strategically allow us to made decisions on where to focus resources."
Accommodation in Stanley slipped by 0.2 points from 9.2 to 9.0 over the last year, attractions in Stanley scored 8.7 and food and drink in Stanley scored 8.0, the lowest of all the scores.
She said: "Overall the Falklands achieved a satisfaction rating of 8.9 out of 10, which was the same as last season. Businesses with the top ratings, all with at least 30 reviews each, were: Stanley accommodation: Pale Maiden; Camp Accommodation: Carcass Island; Tour: Bluff Cove; Stanley Attraction: Historic Dockyard Museum; Camp Attraction: Volunteer Point; Food and Drink: Waterfront Kitchen Café