United Airlines reaches US$ 1.9bn deal with Embraer involving 39 E-175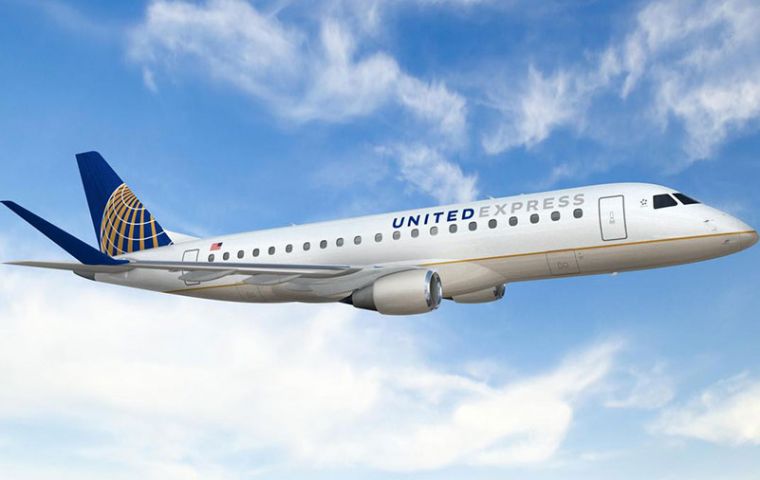 United Airlines has signed twenty firm orders for the Brazilian manufacturer Embraer E-175, which is configured to seat 70 passengers, with an option to acquire 19 more E-175. Total value of the order was put at US$ 1.9 billion, based on the current list price for the aircraft.
Deliveries of the new planes are expected to begin in the second quarter of 2020. The new aircraft will replace aging E-175s in United's fleet of regional aircraft operated by several regional airline vendors, including Skywest, ExpressJet and Air Wisconsin.
Gerry Laderman, United's chief financial officer, said of the Embraer deal: "The E-175, operated by our regional partners, has proven to be an important part of our fleet as we continue to grow our mainline airline and provide an enhanced customer experience. As we focus on providing our customers the utmost comfort and convenience, we will rely on aircraft like the E-175 to help us achieve our goal of delivering the best experience in the sky."
Added Charlie Hills, vice president for sales and marketing North America at Embraer: "With this contract, we have the opportunity to continue serving United's fleet with our class-leading E-175 platform."
Including this new United contract, Embraer has sold more than 585 E-175s to airlines in North America since January of 2013. All together, Embraer has captured more than 80% of all orders placed for regional jets seating between 70 and 76 passengers.
As United has begun aggressively expanding its route network into more second- and third-tier markets in recent years, the Embraer E-175 has proved a popular option to service smaller markets where traffic may not be heavy enough to fill larger mainline planes. But the E-175 still provides a level of service and comfort comparable to that typically available on United mainline flights.