Uruguay holding presidential primaries on 30 June: three main candidates outstand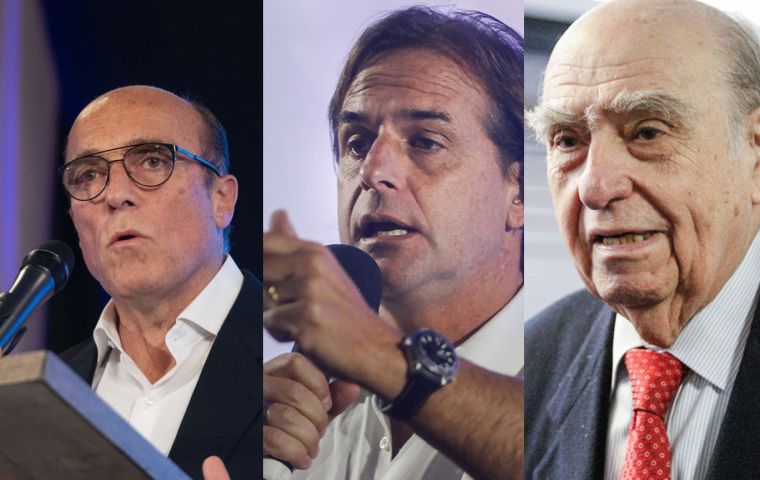 The last Sunday of June Uruguay will be holding presidential primaries when political parties will be choosing their candidates for the coming election scheduled for next October. There are over a dozen hopefuls, but only three, maybe four or five can be considered sufficiently strong as to be taken into account. After all from one of these parties will come the next president of Uruguay, since there is no consecutive reelection in Uruguay.
Uruguay has three so called historic parties, two of them going back to when the country became independent, with UK and US tutelage, from Spain and from the annexing ambitions of neighboring Argentina (United Provinces) and the Brazilian empire.
They are the National or Blanco party, which has its base of support mainly in rural areas and the Colorado party, predominantly urban and backed by most immigrants, and has ruled the country for most of its history.
The third is a movement, a catch-all coalition with an arch extending from former guerrillas and Communists to Socialists and Christian Democrats. It was born in the late sixties and fed with the growing dischenchament of the more traditional parties when Uruguay faced a strong challenge from a guerrilla movement inspired and financed by Cuba. This coalition has ruled for the last fifteen years and is hoping for a fourth five year mandate.
Followers of the Frente Amplio, or Progressive Front of Broad Front have enjoyed a majority in the Legislative in their three periods which was accompanied by strong tail winds and record prices for commodities plus abundance of funds and soft loans. But circumstances have changed and although with a core of faithful estimated anywhere between 28 and 32% of the overall vote, (mandatory in Uruguay but not for the primaries) followers of the ruling coalition have four options: Daniel Martinez, former head of the government fuel and cement company, which went bust, and ex mayor of Montevideo, in representation of the Socialist party, Carolina Cosse, an electronics engineer who has been head of the Uruguayan government telecoms company and minister of industry, supported by ex president Jose Mujica; Mario Bergara, ex central bank chairman, who is running as an independent but close to orthodox Economy minister, Danilo Astori and a Communist union leader, Oscar Andrade.
Polls indicate that Martinez is favorite, followed at a distance by Ms Cosse. Tradition indicates that the winner invites the runner up to join him in the presidential itcket, but apparently Ms Cosse is not prepared to accept. So other lady names are under consideration.
The National party has four main hopefuls, Senator Luis Lacalle Pou, who has been the leader of the party since he took over from his father ex president Luis Lacalle Herrera, Senator Jorge Larrañaga who seems to be the runner up, Enrique Antia, mayor of Maldonado, one of the nineteen counties which make up Uruguay and Juan Sartori, who appeared out of the blue, with a fat wallet, and has everybody guessing why is he running and why did he return to Uruguay, since allegedly he is a millionaire married to the daughter of a Russian tycoonb. Sartori with his opinion polls, extravagant promises and apparently overseas foul players on the social nets, has infuriated paricularly Larrañaga.
This is crucial since the National party for the first time in fifteen years has a couple of points lead over the ruling coalition, which means that in the event of a run off, in alliance with the Colorado party could end winning the election next October.
The Colorados have three main candidates, Julio Maria Sanguinett, twice elected president and who at the age of 84, has shaken off mothballs, and wants to recover the gretaness of the one dominant, Colorado party. A second candidate is Ernesto Talvi, an economist and new to politics, World Bank advisor and at one time linked to a powerful family economic group in Uruguay, most of whom ended in jail.
Talvi is strong in urban Montevideo and has been resourceful in his arguments and apparently counts with financial backing. The third hopeful is Jose Amorin Batlle, who opinion polls show him a distant third, but polls have always misscalculated his real standing since he has a strong grassroot support in several counties, besides the legacy of his deceased distant uncle, Jorge Batlle, who was also Uruguayan president between 2000/05, when the country faced one of its worst financial banking crisis, contagion from Argentina, but he managed to overcome appealing directly to then president George Bush Jr.
There are three other small parties, which could have an influence in a run off scenario, but not at this point since their presidential candidates are their natural founders and leaders.
Thus the most probable result of the June 30 primary are Daniel Martinez as the ruling coalition candidate, Luis Lacalle Pou for the National Party and for the Colorados, Julio Maria Sanguinetti. How the final tickets and possible alliance combinations will most probably be worked out and made public in July.
An estimated 28/30% of the electoral roll is expected to vote on Sunday 30 June, but two significant events could interfere: the current soccer America Cup, in which Uruguay has good chances and is being played in neighboring Brazil, and the start of winter holidays in schools which could mean some potential voters could prefer a warmer climate.