ARA Belgrano relatives will travel next October to the spot where she went down torpedoed in May 1982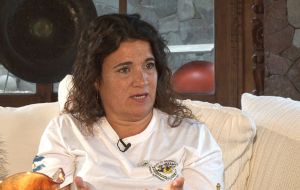 Relatives of the sailors who lost their lives when the sinking of the Argentine cruiser ARA General Belgrano, during the Falklands' conflict will be travelling to the area where she went down, sometime in mid-October.
The former USS Phoenix was torpedoed and sunk on 2 May 1982, with the loss of 323 crewmembers out of a total of 1.093. It was the major single life loss of the 74-day conflict which was triggered by the Argentine invasion of the Falkland Islands on April 2nd. The British nuclear submarine HMS Conqueror was involved in the attack.
Relatives will be leaving from Ushuaia, Tierra del Fuego in an icebreaker for a three day sailing to the spot where ARA Belgrano was lost. Priority will be given to direct next of kin and who have not travelled in the previous three trips, the last of which in 1998. A ceremony to honor the memory of the lost sailors will be held in the high seas.
So far two meetings have been held to organize the cruise, together with the Argentine navy chief of staff Admiral Jose Luis Villan, the Secretary of Human Rights, Claudio Avruj, representatives from the ARA Belgrano veterans, and the Fallen in Malvinas Families Commission.
"Meetings have been very positive, but not to create false expectations we have not given details of the number of relatives or space available, since it will be a most poignant trip", said Maria Fernanda Araujo, president of the Malvinas Families.
She added more meetings will be taking place and priority will be given to those relatives who have never made any of the three previous trips, but the elderly relatives, given the rough seas, will not be onboard.
The idea as with the trips to the Falklands of relatives of the identified remains buried at the Argentine military cemetery at Darwin, is to help families end their mourning and close a painful chapter of their lives, added Ms Araujo, because sailor's families know that the Belgrano is a marine grave.
"When a tragedy happens, sailors last resting place is the sea. That is why we are organizing the trip to be close to them, and where we will meet these heroes that now belong to the motherland".
According to records ARA Belgrano went down at latitude 05°24°S and 61°32°W. Coordinates: 55°24'S 61°32'O, and lies in 4.200 meters deep South Atlantic waters.