Falklands: UK, Argentina and Red Cross discussing further remains identifications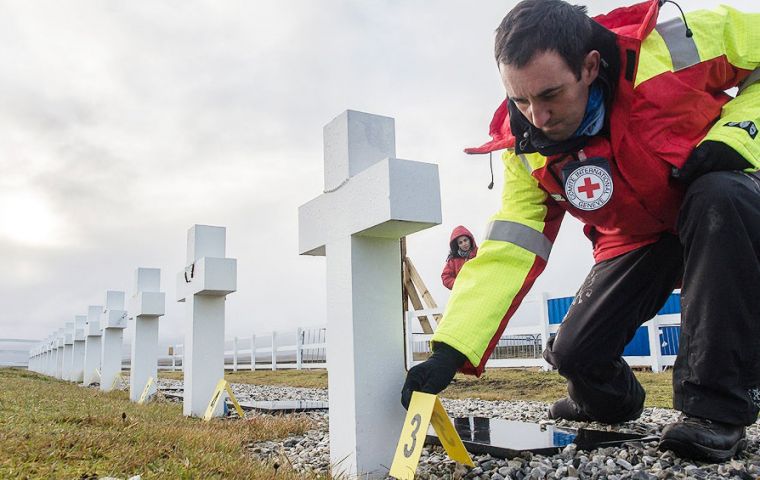 Argentina, United Kingdom and the International Committee of the Red Cross are advancing in negotiations to extend the current agreement for the identification of Argentine combatants fallen during the South Atlantic conflict and buried in the Falkland Islands at the Argentine military cemetery in Darwin.
Based on the Argentina and UK understanding agreed in 2016 and which in one of its chapters opened the way for an international team of forensic experts, under the guidance of the ICRC, to address the humanitarian task of identifying remains, it has enabled so far to give full names to 113 of the 122 graves which only read, "Argentine soldier, only known to God"
"The humanitarian project in the Falklands/Malvinas is an example at world level. That was how it was defined by the vice-president of CIRC, Giller Carbonnier, with whom we talked about the shared wish to extend the understanding and advance with the remaining identification", Argentina's human rights secretary Claudio Avruj said, quoted by the official news agency Telam.
Avruj and Carbonnier addressed the issue during a meeting held in Geneva. The Argentine official said there was a manifest willingness from Argentina and the UK, and the Red Cross to advance and include in the agreement some more graves.
Avruj is scheduled to meet on Friday with UK ambassador in Buenos Aires, Mark Kent, and with the Commission of Malvinas Families to advance the discussions.
The initiative was made effective during 2017 and 2018, following on the September 2016 joint statement with the consent of the Falkland Islands government which has always been supportive of the humanitarian operations, facilitating work and discretion at the cemetery, and the trips of next of kin to the Islands.
Apparently the new chapter of the agreement points to investigate at the Darwin cemetery if all remains and names correspond to those effectively in the graves, according to a judicial report presented by Alicia Panero, a history professor at the Cordoba Aeronautics Institute and also a researcher of the 1982 events.
In 2004, when the cemetery at Darwin was remodeled and the white crosses were replaced, several of the graves, allegedly originally unknown appeared with names, as if they had been identified. It is believed that of the 230 graves at the Argentine military cemetery, five gravestones with the names of twelve soldiers are still un identified and their relatives have not been informed.
The mystery surrounding these graves were not included in the 2017 accord with the Red Cross since the understanding between Argentina and the UK and Falklands referred to those with the gravestone, "Argentine soldier, only known to God".