Falklands' fisheries essential for Vigo's economy and fleet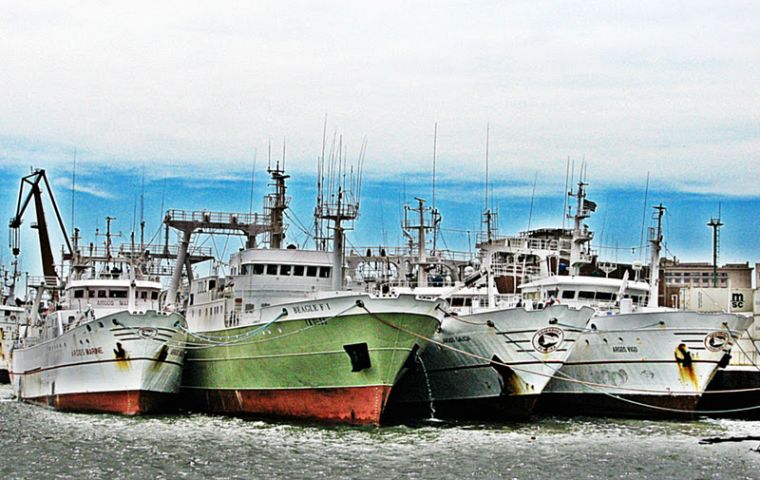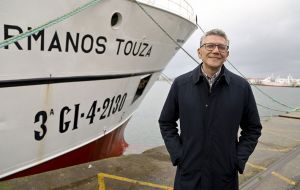 Some 25% of fisheries imports to Vigo, Spain, come from the Falkland Islands revealed Javier Touza, president of the Vigo Cooperative of fishing vessels owners, ARVI, in an interview with local media, while praising the management of the Falklands' fisheries.
"There is a very well developed management of the Falklands' fisheries, we have an independent observer contracted by the local government in each of our vessels, --we pay for him--, and we are leaders in measures to avoid harming sea mammals and marine birds" explained Mr. Touza who was interviewed on the departure of the Galician fleet to the South Atlantic, among which for the second squid season beginning 29 July.
Some twenty four Spanish flagged trawlers and operating from Montevideo, plus another 19, under joint ventures with Falklands companies, totaling some 1.500 crew members from Galicia are currently leaving Vigo for the South.
"It's a long trip, they have to ready gear and each vessel carries a minimum of fifty crewmembers, because regulations demand double shifts" said Touza adding that almost 100% of fisheries loads are landed in Vigo.
"We have 750.000 cubic meters of cold storage, plus the processing plants, and from here (Vigo) we sell to all the world, each time more international"
Touza pointed out they were very positively surprised by catches and the quality of Falklands' squid, good, strong flesh. "We are happy working in the Falklands, in collaboration with our partners and the local government, we are hoping for a good squid season. We are very respectful of the environment, preserving the resource and the Falklands' fishery is a world example as to how develop such a system".
The length of the season is decided on scientific data and is equal and fair for all with licenses, concluded Touza.