Bolsonaro: EU/Mercosur agreement will take at least three years to come into force
Monday, July 1st 2019 - 09:58 UTC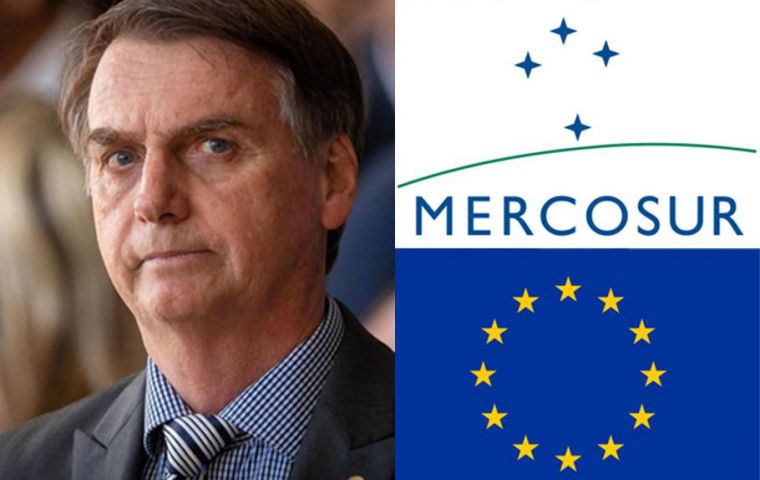 Brazilian President Jair Bolsonaro said on Sunday that it could take up to three years for the free-trade deal agreed by the European Union and Mercosur to come into force, as it depends on approvals by lawmakers of all countries involved.
On Friday, EU and Mercosur concluded two decades of talks, committing to more open markets in the face of a rising tide of protectionism.
In an interview after his arrival from a trip to G20 in Osaka, Japan, Bolsonaro added he expected the Brazilian Congress to be one of the first to approve the EU-Mercosur treaty.
"(The deal) comes into force in one or three years, depending on the parliaments…Maybe ours will be one of the first to approve, I hope," he told journalists when arriving in Brasilia.
Besides there are a round of negotiations for the different sectors which remain open and need further discussions.
Bolsonaro called his trip to G20 a "mission accomplished", attributing the success to the fact that his ministers were chosen for technical reasons.
Since he took office on Jan. 1, his government has been struggling to get Congress to pass a bill to overhaul of Brazil's social security system, shore up public finance and stimulate investment and economic growth.
Asked about the demonstrations, Bolsonaro only said that "people have the right to protest".