Uruguay presidential election campaign takes off, following on Sunday's party primaries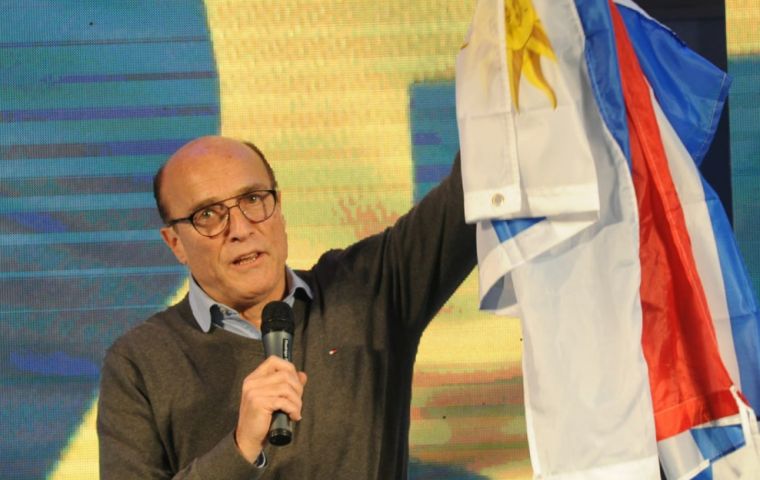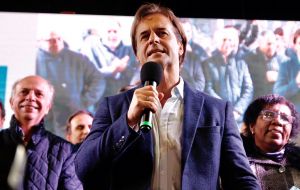 A former mayor of the city of Montevideo, and a Senator, head of the opposition are the most serious candidates to be elected the next Uruguayan president according to the results of the political parties' primaries held this Sunday. General elections in Uruguay are scheduled for the end of October, and a month later a runoff in case no candidate manages a 50% majority of votes cast.
On Sunday and despite the cold weather and the Saturday frustration after the Uruguayan national team was eliminated from the Cup of Americas, some 40% of the registered electorate turned out to vote for the different candidates. A total of sixteen parties participated, with three having the greatest chances. Smaller parties also had to vote because they need a minimum of 500 votes to compete next October.
The three leading parties are the current government catch all coalition, Broad Front, which had four pre-candidates, the National or Blanco party, also with four hopefuls and the Colorado party with three leading figures.
In the Broad Front ex Montevideo City mayor Socialist Daniel Martinez came out ahead with 42% of ballots, followed by Carolina Cosse, 25%, Oscar Andrade, 23% and Mario Bergara, 9%.
In the National party, senator Luis Alberto Lacalle Pou obtained 53.9% of the vote, followed by Juan Sartori with 20.8%, (a late comer to the competition but with a fat wallet), Senator Jorge Larrañaga with 17.3% and Enrique Antía, 7.5%.
With his ample majority, over thirty points over his runner up, Senator Luis Lacalle Pou in his victory speech announced and completed his presidential ticket with a woman, Beatriz Argimón, the current chair of the National párty, ex lawmaker and with vast experience in Parliament.
In the Colorado party, economist Ernesto Talvi, a rookie in politics, was supported by 53.8% of voters, followed by ex president Julio Maria Sanguinetti, 32.7% and Senator Jose Amorin Batlle 13.2%. Despite his ample majority Talvi said he will take his time before deciding on a consensus companion for the presidential ticket.
The issue of completing the presidential ticket won't be an easy task for the ruling coalition and ex mayor Martinez. There is much pressure from ex president Jose Mujica, a heavy weight of the ruling coalition, (he leads the main legislative block and his wife Lucia Topolansky is vice president and head of the Senate), and he also sponsored Carolina Cosse, a woman, electronics engineer, runner up with 25% of the vote.
Besides, despite the apparent unity between Broad Front candidates , votes which reflect number of seats in the party's convention could easily thwart Martinez presidential ambition. Andrade is a Communist union leader and feels better indentified by Cosse than Martinez. Economist and ex central banker Bergara could have the decisive percentage to decide if things get rough.
In the Colorado party Talvi could be pressured with a name proposed by ex president Sanguinetti, 83, but both leaders are well aware that the real objective is a ¨multicolor government", as described by Senator Lacalle Pou, meaning a coalition understanding to help defeat an exhausted ruling coalition that has been in office for fifteen years and seems to have run out of ideas and proposals.
This is the idea the two main opposition parties will have to begin knitting together as of this Monday, on some basic principles such as reforming education, law and order, work ethics, foreign policy, hoping that they can win the October/November elections. For this they will also have to count with the support of some smaller parties, such as the Independents and the Open Town Hall.