Guaidó justifies his dialogue strategy with the Maduro government
Wednesday, July 10th 2019 - 10:00 UTC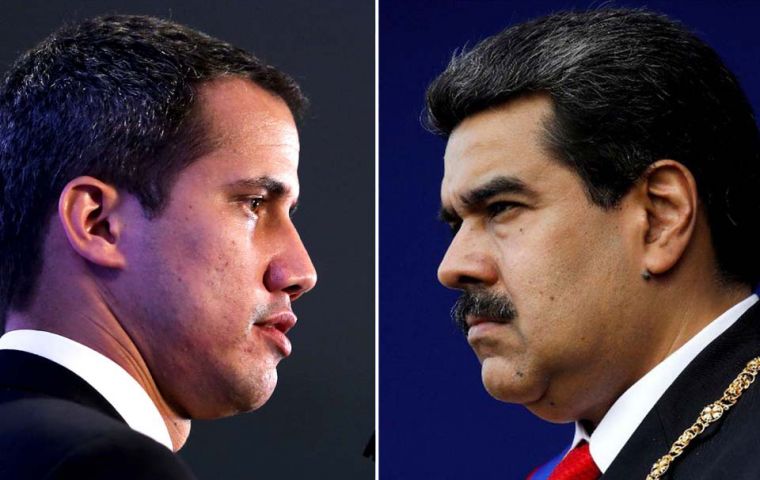 The government of Nicolás Maduro and the Venezuelan opposition will sit down at the same table to negotiate an exit to the political, social and economic crisis that the country is experiencing, this time in Barbados, despite the little motivation that exists among the Venezuelans to consolidate an agreement and the unsuccessful attempts of the past.
According to the president of the Parliament, Juan Guaidó, the meeting will aim to "achieve a definitive solution to the crisis in our country", while the Minister of Communication and Information, Jorge Rodríguez, assures that the new meeting will result in "consolidation peace".
The delegations sent by Guaidó and Maduro are exploring the possibility of negotiation on the Caribbean island under the support of Norway. One step, which is not the only movement of the National Assembly, which has fueled expectations and at the same time a certain distrust. A segment of the Venezuelan society questioned the decision to dialogue and not a measure that gives a definitive exit to the regime, as a military intervention. According to the pollster Delphos, only 15.2% of the population wants a negotiated agreement.
"We have to overcome another enemy, despair, distrust, the regime is isolated, alone, defeated, even divided," Guaidó said in a video broadcast on social networks.
"As long as we remain united and mobilized, we will be able to change Venezuela," he warned, even granting the concern of some opposition sectors.
"I understand that there are doubts, natural, that can generate processes like the one in Oslo, processes such as the implementation of the TIAR [an inter-American reciprocal assistance treaty that opens the door to an intervention], including the street, including the International Contact Group" , acknowledged Guaidó, who hours earlier had met with the special envoy of this last initiative, promoted by the European Union, the Uruguayan diplomat Enrique Iglesias.
The meeting is part of the efforts undertaken on several fronts. But in this case, there is a novelty. "The great difference in this process is the pressure we have achieved and must increase, that the world recognizes the situation in our country and is committed to achieving solutions, and we must work in all the spaces that allow us to get out of the tragedy."
Iglesias also met with President Maduro, who on Monday was "very optimistic" about the contacts of the delegations in Barbados, which had already begun weeks ago in Oslo. Although he did not report in detail the meeting with the EU envoy, he assured via Twitter that it was an "extraordinary work meeting".