Gibraltar Police arrest two officers of the Grace 1 supertanker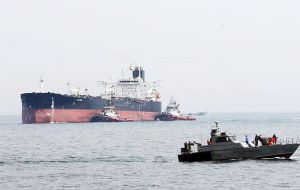 RGP has confirmed the arrest of the two second mates of Panama flagged super tanker Grace I that was detained by local law enforcement agencies off Europa Point last week, in relation to alleged breaches of EU economic sanctions against Syria.
The operation was conducted by the RGP, GDP, Customs and Port Authority with the support of British Royal Marines.
The arrest of the two officers, who are now held in custody at the RGP headquarters in New Mole House assisting police with their inquiries, follows the detention yesterday of the vessel's captain and chief officer, also in connection with the same investigation of the suspected export of crude oil to the Banyas refinery in Syria, in contravention of an EU ban against the Middle Eastern country.
All four men are Indian nationals and they have been granted full legal assistance, telephone contact with their families and access to their consular authorities.
The investigation continues and the Grace 1 remains detained under the provisions of the Sanctions Regulations 2019 which are born out of the Sanctions Act 2019.
"This follows a protracted search of the vessel where documents and electronic devices have been seized and examined," police said in a statement.
Gibraltar police are interviewing both men, who have "been accorded their legal entitlements and access to consular representation," it added.
Gibraltar forces and British marines boarded the ship, Grace 1, and seized it on July 4 off the coast of Gibraltar, saying they believed it to be destined for Syria to deliver oil, which is subject to European sanctions.
Tests have shown the 330 metre (1,000 feet) tanker which is capable of carrying two million barrels of oil, was "carrying a full load of crude oil", the government of Gibraltar said Monday.
Iran has condemned the detention as an "illegal interception" and said the tanker was not headed to Syria.
The arrests come after London said earlier on Thursday that armed Iranian boats tried to "impede" a UK supertanker in the Gulf before being warned off by a British warship.
Iran's Revolutionary Guards denied involvement but also cautioned both the United States and Britain that they would "strongly regret" the UK Royal Marines' detention of the Grace 1.
Gibraltar police said the investigation was still on-going and the tanker remained detained.