Brazilian state of Paraná passes antifracking law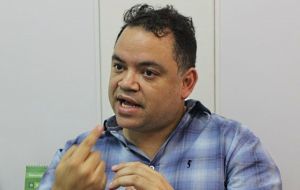 Based on environmental grounds, other types of soil exploration that can cause pollution also fall under the scope of this week's new norm.
Carlos Massa Ratinho Júnior, governor of the Brazilian state of Paraná, signed into law a bill whereby fracking is not allowed in that territory, it was announced.
According to Law Number 19.878, published in the Official Gazette, all types of soil exploration that can cause pollution, as well as generating environmental accidents or affecting health, are prohibited.
The new statute makes Paraná the first state in Brazil to prohibit fracking and replaces State Law 18.947 of 2016, which halted this activity for ten years statewide.
"Our work in the state of Paraná was arduous and, thanks to the support of cooperatives, authorities, NGOs and society, more than 11 million people can breathe knowing that the gas of death will be far from their lands," said the director founder of the Brazilian Non-Fracking Coalition for Climate, Water and Life (Coesus), Juliano Bueno de Araújo.
Fracking involves the extraction of gas or oil from the subsoil with a method that includes the injection of water under pressure and toxic chemicals, which contaminates soil, water and air, damaging biodiversity and the development of those areas.
"Paraná once again comes forward in relation to the protection of its water, air and fertile soil (...) We demonstrated that fracking could cause irreparable environmental and economic damage," said Congressman Evandro Araújo.