Power cuts in Cuba not due to shortage of oil, minister says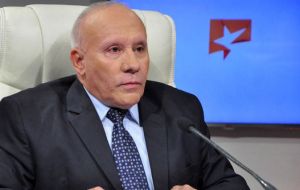 The Cuban government Wednesday explained the repeated blackouts in the country but are due to breakdowns in the electricity-producing machinery and not because of a shortage of oil that can be attributed to sanctions by the United States.
"The effects on the electricity service in the country perceived in the last few hours have been associated with the deficit of generation capacity due to breakdowns, which have coincided with units that were in planned maintenance," said Energy Minister Raúl García Barreiro.
"This situation has nothing to do with the availability of fuel for the generation of electricity," he added after reporting on power cuts lasting over three hours across the country.
García Barreira described that this situation occurred during maintenance work on thermal units that supply electricity nationally and "left the system due to breakdowns."
This caused a deficit in the base generation capacity of the system, which was not possible to solve with the one designed to cover peak demand.
The official also explained that it was "necessary to affect the service due to generation deficit in all the provinces of the country".
The situation is expected to get back to normal by Saturday, the minister announced.
"Blackouts" are a delicate issue in Cuba because they are associated with a possible fuel shortage owing to US measures in force since last April to prevent shipments of Venezuelan oil Venezuela from arriving.
The island has for years had agreements with Venezuela for oil imports under special conditions and exchange.