Bariloche airport reopens after closing Saturday due to heavy snow in west Argentina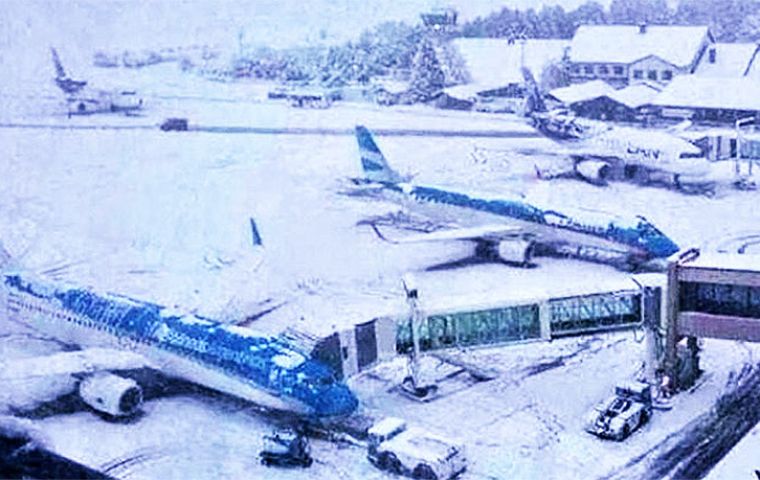 The international airport at the Argentine winter sports resort of Bariloche resumed operations Sunday morning following a decision to close it Saturday due to heavy snowing despite a record-setting peak season demand .
The intense fall of snow and bad weather had led the city along the province of Rio Negro's Andes to halt all transport services, including the commercial flights. At least six services were canceled, others were delayed and three aircraft already airborne had to be diverted to other air terminals that were still operational. A total 41 commercial flights were scheduled to operate Saturday.
The Ministry of Transport said in a statement that in some sectors of the Bariloche runway there were up to 80 centimetres of snow and that flights had been rescheduled for Sunday, as the city is in peak tourist season.
Participating in the works to reopen the airport were 12 heavy machinery units and over 50 people.
Bariloche City Civil Protection Undersecretary Patricia Díaz said the airport was operational again from 10 am Sunday and explained that the biggest complication generated by the storm had to do with electricity supply. The power cuts affected some 15,000 customers, it was reported.
Removing the snow from the roads was carried out throughout Sunday so that traffic could resume at the earliest time possible.
Bad weather hit Argentina's Andean region throughout the weekend.
The airplane carrying the Brazilian football squad Palmeiras to Mendoza for a Libertadores Cup clash with local team Godoy Cruz failed to land at the El Plumerillo airport twice due to poor conditions - which was sickening to various players, according to press reports - when the captain decided against a third attempt and diverted to Rosario.