Argentine air force planning to purchase some ten South Korea's FA-50 fighter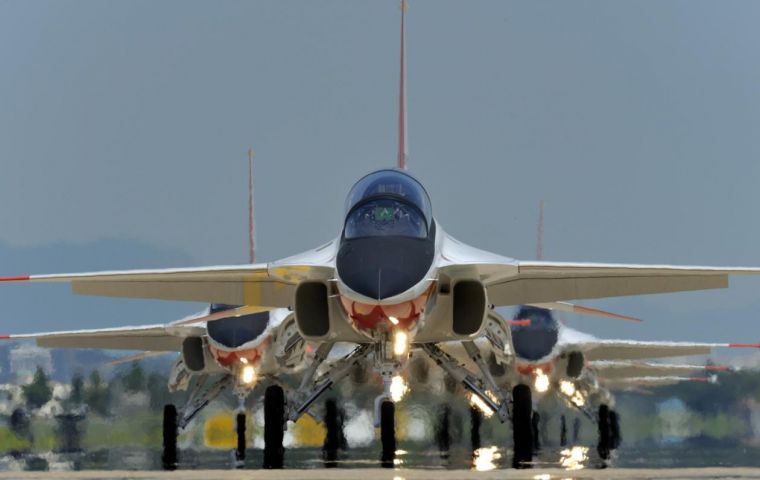 The Argentine air force has selected South Korea's FA-50 as its next fighter, Jane's reported this week. The decision is good news for a once-proud air arm that, in recent years, has precipitously declined in size and effectiveness. Argentine officials as early as 2016 had asked to evaluate the twin-seat, supersonic FA-50, Jane's reported.
According to sources the Argentine government is expected to sign off on the procurement "in the near future." "Argentina has national presidential elections at the end of October, and the source noted that these may slightly prolong the timeline, but that he still expects the deal to go through," Jane's added.
The air force could acquire as many as 10 FA-50s, according to Argentine media. The 12-ton fighter retails for around US$30 million per copy, tens of millions of dollars less than a new F-16 or similar, heavier fighter.
The Argentine air force badly needs new warplanes. British forces during the Falklands conflict in 1982 shot down around a third of Argentina's 400 warplanes, but in subsequent decades funding woes and mismanagement exacted an even greater toll.
By late 2015 the Argentine air force and navy together could muster fewer than 250 warplanes including a few Vietnam War-vintage, subsonic A-4s and equally aged, but supersonic, French-made Mirages. Even the planes that could fly lacked modern systems.
The Mirages left service in mid-2015. To rebuild its supersonic fighter capability, Buenos Aires considered buying new Gripens from Brazil, old American F-16s, second-hand Mirage F.1s from Spain and new FC-1s from China before finally settling on 14 used Israeli Kfir Block 60s, priced to move at US$350 million including several years of maintenance.
But the United States refused to grant an export license for the Kfir's American-made engines. Argentina was left with no supersonic fighters. By 2018 Argentina also had retired all of its A-4s. The flying branch had wanted to upgrade the fighters to serve until 2022, but a lack of spares rendered them non flyable
The FA-50s would help the air force to begin rebuilding. The navy meanwhile has begun its own rearmament program. Five ex-French navy Super Etendard fighters in May 2019 arrived at the port of Bahia Blanca in Argentina.
The subsonic fighter-bombers eventually will equip a navy squadron and, by the end of 2019, could be the most sophisticated warplanes in the Argentine military. The FA-50s would exceed them in speed, firepower and sophistication.
The Super Etendards in question originally entered service with the French navy in the late 1970s or early 1980s. The French in the 1990s upgraded the carrier-capable jets to the Super Etendard Modernize standard before retiring them in 2016.