"Electromagnetic attack" behind massive power cut, Venezuelan minister explains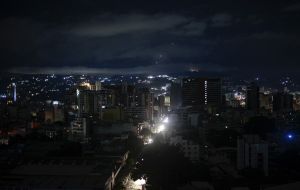 Venezuela's Communication and Information Minister Jorge Rodriguez Tuesday revealed that according to preliminary inquiries, the probable cause of the massive blackout on Monday, which hit most parts of Venezuela, including the capital Caracas, was "an electromagnetic attack."
Work and educational activities were suspended Tuesday pending the restoration of electrical services, while citizens were advised to stay at home unless in case of an emergency.
The blackout knocked out telecommunications and traffic, among other services, with many people posting images of Caracas residents walking to their destinations after subway services were interrupted.
The attack "sought to affect the country's hydroelectric generation system, the main provider of power in Venezuela," said Rodriguez in a statement on Monday.
The Venezuelan government has activated a special protocol for a crisis of this magnitude.
Venezuelans still have fresh memories of a massive blackout on March 7 that brought the country to a standstill for days. Since March, Venezuela's National Electric System has suffered numerous attacks including gunfire shots, fires and "cybernetic and electromagnetic" aggressions on the automated control system of the main hydroelectric power plant.
The government has blamed the country's right wing and its international backers, mainly the United States, for the attacks.
Rodriguez also said that the incident involving an alleged U.S. spy plane has put commercial flights at risk. The aircraft was said to have flown into a Venezuelan flight control zone on Friday morning.
"Any aircraft in that zone must contact the control tower for that zone," Rodríguez said.
"If there is a plane in the zone and it hasn't identified itself, where it took off from, what its route is and where it is going to land, it puts any other plane flying in the area at risk," he added.
"There are photographs of the U.S. plane. It was a U.S. spy plane. Its intention was aggression against Venezuela and our armed forces acted accordingly," said Rodríguez.
Over the weekend, the U.S. Southern Command attempted to "distort" what took place on Friday by tweeting misleading information, said Rodriguez.
On Sunday, the Southern Command accused Venezuela of "aggressively shadowing" one of its aircraft "at an unsafe distance" two days earlier. The U.S. EP-3 "was performing a multi-nationally recognized and approved mission in international airspace over (the) Caribbean Sea," the U.S. military said.