Venezuela's Defense minister condemns opposition's plan to rejoin regional military assistance treaty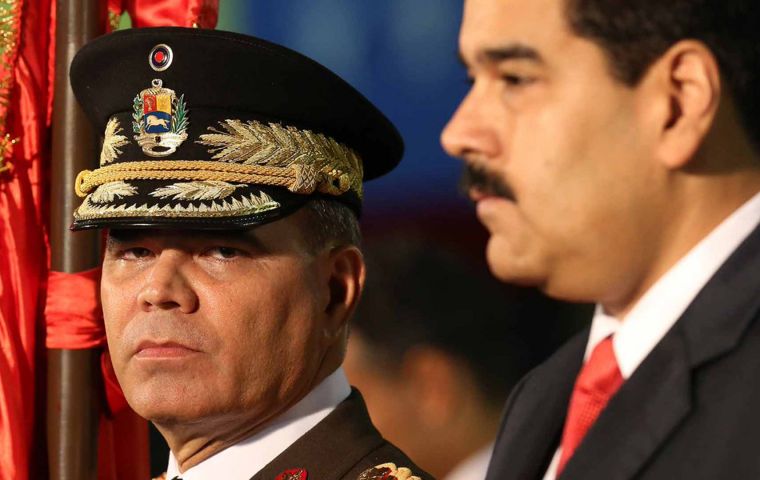 The Venezuelan defense minister said that the Venezuelan Armed Forces condemn the Juan Guaido-led opposition's plans to re-join the Rio Treaty. Defense Minister Vladimir Padrino Lopez said the Inter-American Treaty of Reciprocal Assistance (Rio Treaty) is "an instrument of domination and interventionism that goes against independence and sovereignty of peoples."
"Today, on the day of the birth (24 July) of our Liberating Father [Simon Bolivar], the FANB [Venezuelan Armed Forces] strongly rejects the dire intentions of a pro-imperialist political minority, who, demonstrating their anti-patriotism, invoke the Inter-American Treaty of Reciprocal Assistance (TIAR). What a decadence!," Lopez tweeted on Wednesday, using the pact's Spanish acronym TIAR.
"It is precisely this Treaty [Rio], an instrument of domination and interventionism contrary to the independence and sovereignty of the peoples, product of the already obsolete imperialist doctrines that have done so much damage to Latin America," he added, reiterating the army's loyalty to the elected government headed by President Nicolas Maduro.
Venezuelan Armed Forces retweeted Lopez's post.
Opposition-controlled National Assembly (VNA) in Venezuela on Wednesday, in a bid to use it against the Maduro government, approved a law to rejoin the Rio Treaty that allows asking other treaty members for military aid.
The controversial move came at a time when the pro-opposition Lima group has also called for elections in Venezuela after meetings in Argentina on Wednesday, mounting international pressure on Maduro.
Despite lacking military and popular support, opposition acts as the legitimate government of Venezuela and Juan Guaido is recognized as its leader by several countries, mainly Western countries.
The assembly had formally started in May the procedures to rejoin the Rio Treaty, an international pact which the opposition thinks would give legal ground to regional military action to overthrow elected President Maduro.
The Rio Treaty was signed in 1947 in Rio de Janeiro, Brazil by a majority of American nations. The NATO-like treaty stipulated that an attack against one member is to be seen as an attack against all other members.
The pact, which proved helpful during the Cold War era, later lost its pull and meaning, especially after the U.S. supported the U.K. in its war with Argentina over the Falkland Islands in 1982.
Although the U.S. worked hard to revive the treaty after 9/11 attacks in a bid to enlist Latin American nations to join the so-called war on terror, many member nations did not support subsequent U.S. wars in Afghanistan and Iraq.
Mexico left the treaty in 2002, citing the need for a new pact. Caracas also left the treaty in 2012, along with Ecuador, Bolivia, Cuba, and Nicaragua.