Falklands' constitution under review; MLA Edwards invites written opinions
Saturday, July 27th 2019 - 09:55 UTC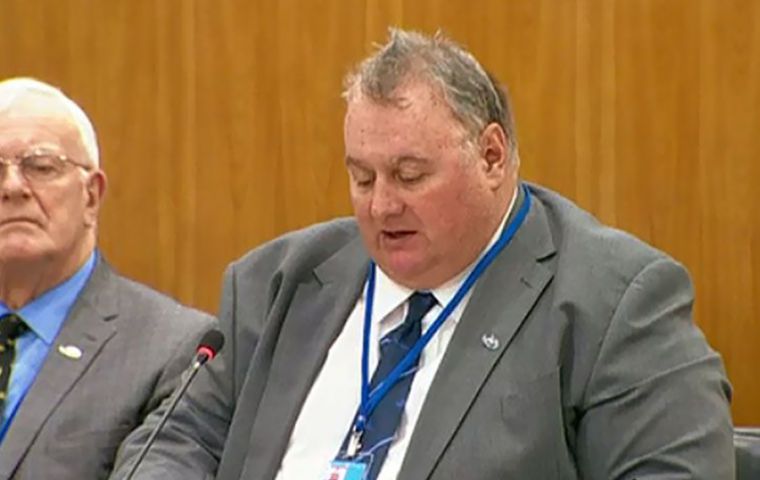 Falkland Islands Member of the Legislative Assembly, Roger Edwards is calling on Falkland Islanders to help with a review of the Falklands Constitution. It is vital that Falkland Islanders express their thoughts on the laws and principles that protect their rights. MLA Edwards said the deadline for submitting written evidence to the Select Committee, regarding the Constitutional Review, has been extended to the 31st of August.
I believe as many people as possible should take advantage of this opportunity. Everyone should have their voice heard, as a diverse set of views will allow us to gather an accurate depiction of public opinion regarding our constitutional relationship with the UK.
This review is something that will affect everyone. Moreover, it is a further step in our ever-evolving relationship with the UK. It is also a process many UK Overseas Territories are currently undertaking.
Indeed, the Cayman Islands for example, have been going through such a review; and aim to end their process soon, around the 60th anniversary of their first codified Constitution.
As part of their review they have discussed a wide range of issues, some specific to their situation, but others of relevance to us.
One such issue was voting rights, specifically, whether only allowing full status holders to vote is discriminatory, or not. This is a debate that has recurred in previous constitutional reviews, here at home.
The Select Committee needs your written opinions, on this and any other issue that is important to you.
For us to fully understand what areas to focus our future work, we need to know what constitutional matters are important to you. That is why we are calling for written evidence. If your opinions are submitted in writing, they can be recorded and discussed by the Select Committee.
There are certain guidelines required for submitting evidence; however, your opinion is the most important thing. Whether you have any factual evidence to back it, or whether it is just a gut feeling, submit your thoughts. Use this platform, every opinion matters. Following the deadline for written evidence, there will be further opportunities to express your views through a series of public engagement events, in both Stanley and Camp.
Remember, we are in this together; and everyone's voice deserves to be heard. Do not miss your chance to have your say on this historic event. For further guidelines on how to submit evidence, email: constitutionalreview@ sec.gov.fk. (PN)