Barrick Gold to invest 34 million dollars over two years on Argentina's Veladero mine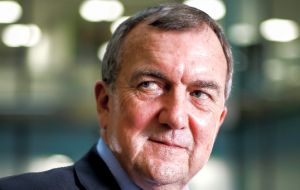 Canadian mining giant Barrick Gold Corporation, which co-owns the Veladero mine in San Juan together with the Chinese Shandong Gold Group, has announced a plan to invest US $ 34 million over the next two years, to extend the deposit's profitability beyond 2028.
"The work to recover [Valadero's] full potential and extend its useful life is already yielding results," said Barrick CEO Mark Bristow in San Juan as he made the announcement.
Veladero is located 300 kilometers northwest of the provincial capital.
Bristow stressed that "the mine increased its production by 26,000 ounces in the second quarter of the year" and also noted that "in the last 14 years Veladero has contributed $ 8.9 billion to the Argentine economy through taxes, royalties, salaries and payments to local suppliers."
He also vowed to review the original parametres of the Argentine-Chilean Pascua Lama project to define its future potential. Bristow also confirmed the company's decision to "advance in investments according to their potential and development possibilities", even if it is from the San Juan side.
He recalled that Barrick has "a highly prospective land package, with mining rights over 34,000 hectares in the El Indio gold belt," which spans through Argentina, Chile and Peru.