Largest cocaine bust in Germany, 4.500 kilos, was shipped from Montevideo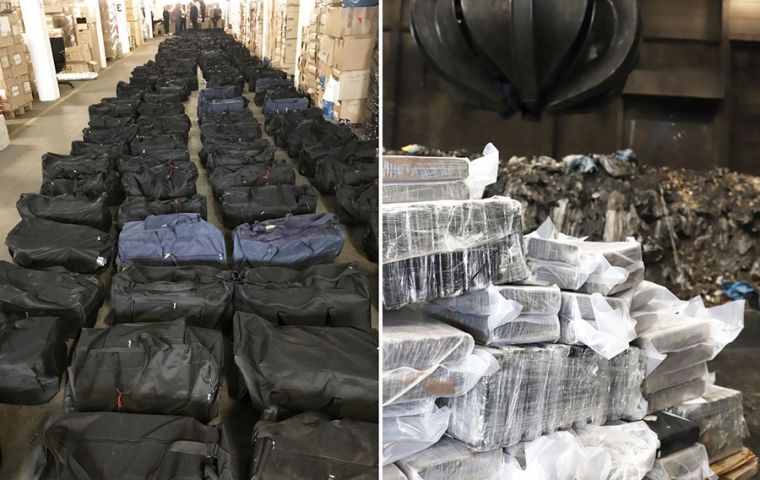 German customs have confiscated a record 4.5 metric tons (5 short tons) of cocaine in a shipping container in Hamburg, with a street value of nearly €1 billion (US$ 1.1 billion). The drugs were discovered two weeks ago during a routine check, resulting in the largest cocaine shipment ever seized in Germany.
More than 4,200 packages in 211 sports bags were discovered in a freight container which shippers claimed were full of soybeans. The shipment was being transported from Montevideo in Uruguay, via Hamburg, to Antwerp, Belgium.
"This enormous amount represents the largest individual seizure of cocaine in Germany," the Hamburg Customs agency said in a statement on Friday. "Assuming that this likely high-purity cocaine can be cut to triple the amount for street sale, the 4.5 tons has a street value of approximately €1 billion."
The cocaine has already been destroyed, under strict extensive security measures, according to German authorities. .
Hamburg's port, Germany's largest and Europe's third busiest, is often referred to as the "gateway to the world" as the country's trade and travel has relied heavily on it throughout its history.
The EU Drug Markets Report found that Rotterdam was the main point of entry for drug smugglers, but that Hamburg was handling increasing traffic. In recent years cocaine shipments of up to one ton have been detected on numerous occasions but Friday's announcement was an unprecedented amount.
In 2018, German authorities destroyed drugs with a combined street value of 520 million Euros, some US$ 592 million.
In Uruguay there is an ongoing investigation involving the Interior and Defense ministries plus Customs and Migration Offices, all crossing accusations since only a few weeks ago another 600 kilos of cocaine were caught in a French airport neighboring Switzerland. The aircraft left the airport of Carrasco in Montevideo, and apparently it was a shipment for the Balkans drugs mafia.
The incident occurred last May, with the private plan arriving from Cabo Verde in Africa, on 14 May, spending two days in Montevideo before leaving with the valuable cargo for Nice and then Mholouse.
Uruguayan investigators are looking into the filming of those days in Carrasco and the VIP lounge, and trying to discover why the cocaine packages, one of the biggest catches in France, (some US$ 180 million) were not scanned or checked before leaving.
In Europe some twenty people have been arrested confirming they belong to the Balkans group. "Operation Family" as the action was named involved the French police, Europol and the US DEA. Although it all happened in May, it was only made public during July.