Falklands' wildlife recorded on the book "Britain's Distant Lands"
Saturday, August 17th 2019 - 09:22 UTC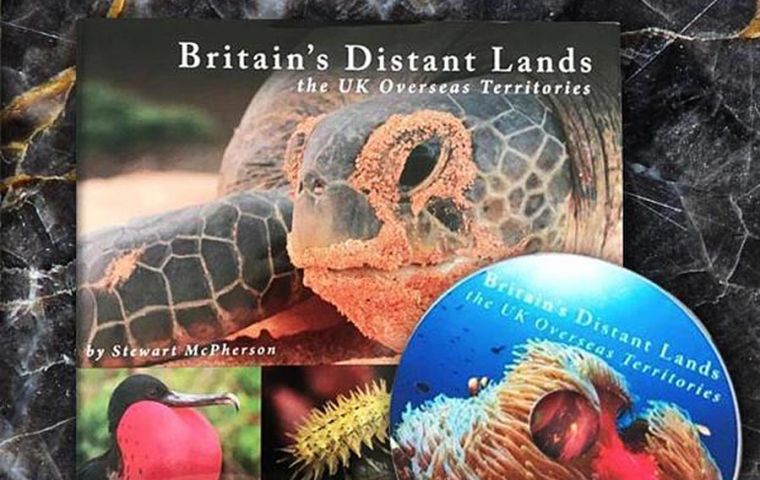 The author of the bestselling book Britain's Treasure Islands is releasing a new work, with a section dedicated to the Falkland Islands. Britain's Distant Lands by Stewart McPherson is a 208 page, landscape-format examination of the wildlife of all the UK Overseas Territories.
It features over 600 images, as well as text documenting the plants, animals and marine life of each territory.
There is also an overview of the history and communities of every territory. Each of the 16 main chapters explores a different UK Overseas Territory and includes a detailed, full-page, custom-drawn map.
"This work is completely different and separate from the soldout 700-page Britain's Treasure Islands book I published four years ago," says Mr. Stewart.
"Britain's Distant Lands is aimed at a much broader audience, being shorter, less expensive, and more focused on images."
The book showcases and explores the astounding diversity of the UK Overseas Territories, with a chapter focusing on the Falklands of particular interest to the Islands.
That means a look at the local wildlife, from marine mammals such as orcas, Commerson's and Peale's dolphins, leopard seals, elephant seals and sea lions, to our range of penguins - rockhopper, king, gentoo, magellanic and macaroni. Not forgetting birds such as the Caracara, steamer duck, black-browed albatross and Cobb's wren.
There are 16 UK Overseas Territories, scattered across the world from the Equator to the South Pole. They harbor lush tropical rainforest, pristine coral reefs and Antarctic tundra, as well as some of the world's largest penguin, albatross and sea turtle populations.
More than one thousand unique plant and animal species call the UK Overseas Territories home, as do 270,000 British subjects united by a cultural heritage.
So as well as examining the Falklands section with special interest, readers can see some breathtaking imagery from around the world.
"Each page of this work has been passionately crafted to take the reader on a journey across the Territories to explore the key wildlife and histories that have made these fascinating British outposts what they are today," said Mr. Stewart.
The new book features contributions from hundreds of residents and conservationists from across the UK Overseas Territories, which means that since it contains both captivating photographs and interesting facts, the book works as a spectacular coffee table photo book and a concise reference volume.
All rights are owned by the Friends of the British Overseas Territories, and all proceeds from sales of the book help FOTBOT's UKOT projects.
Britain's Distant Lands by Stewart McPherson will be published in March 2019 by Redfern Natural History'. (Penguin News)