Bolsonaro creates a "crisis cabinet" to address the Amazon forests fires and criticisms
Friday, August 23rd 2019 - 09:56 UTC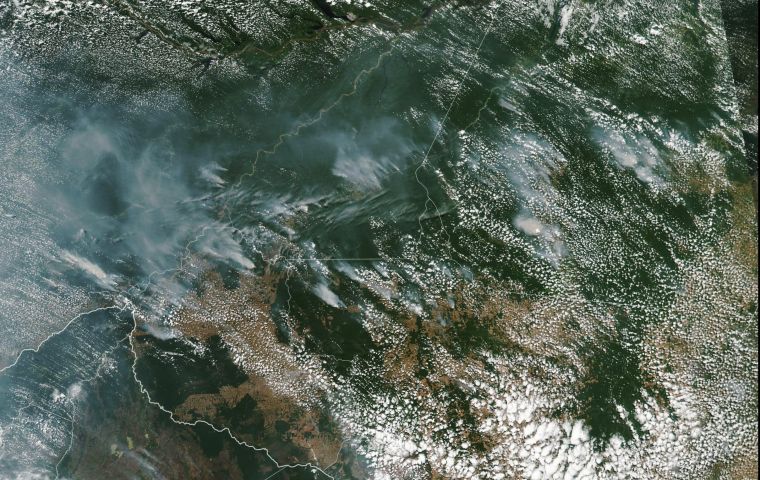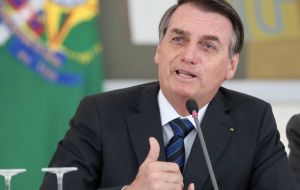 Brazilian president Jair Bolsonaro following a Thursday meeting with his ministers at the Planalto Palace announced the creation of a crisis cabinet to address the Amazon rainforest situation.
This follows the huge fires confirmed by satellite images of the jungle blazing, which triggered an exchange of accusations between Brazil and France.
Ministers attending the meeting included, Environment, Ricardo Salles; Defense, Fernando Azevedo de Silva; Foreign affairs, Ernesto Araujo; Agriculture and Livestock, Teresa Cristina; Institutional Security, Augusto Heleno; Government Secretary, Luiz Eduardo Ramos; Executive Secretary, Jorge Oliveira and cabinet chief Onyx Lorenzoni.
Bolsonaro had anticipated a meeting with ministers, which was not included in the daily agenda, and said he would not comment on it. It was the Environment minister Salles who would report on the actions to be implemented by the new crisis cabinet.
The Brazilian government has been the target of criticism supported with NASA images of the Amazon rain forest fires, as well as from United Nations Secretary General Antonio Guterres, and French president Emmanuel Macron, who proposed the issue should be addressed during the coming G7 summit of the world's richest countries, which will be taking place in France.
Bolsonaro replied saying that Macron initiatives were "colonialist" and accused the French president of appealing to fake pictures of the fires to meddle in Brazilian affairs. In effect allegedly
Macron in his tweets published al old picture of the Amazon fires, taken by a photographer who died in 2003.