"Macron is an idiot", is the title of a video posted by Eduardo Bolsonaro
Friday, August 23rd 2019 - 09:36 UTC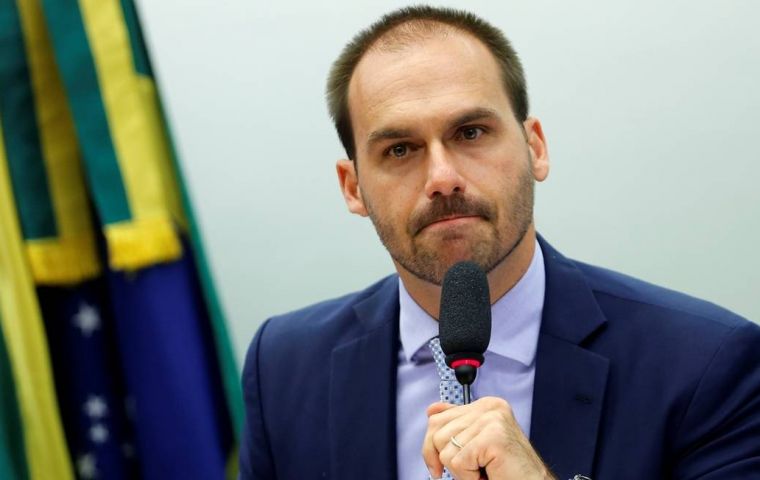 "Macron is an idiot" is the title of a video posted in social networks by a Brazilian member of congress who happens to be the son of president Bolsonaro, Eduardo Bolsonaro
Eduardo said on Thursday that the video is a message for the French president who has proposed that the Amazon situation and fires, should be discussed at the coming G7 summit.
The video posted in collaboration with youtuber Bernardo Küster criticizes the situation in France which has led to the rebellion of the so called "yellow vests". According to the video, Macron's intention of following the UN environmental agenda only led to an increase in the price of fuel and left the French people unhappy and many furious.
"To follow with the UN agenda, Emmanuel Macron increased 23% the tax on fuel", plus the fact he had benefitted migrants to the displeasure and pockets of the French people.
Eduardo Bolsonaro, who is chair of the Foreign affairs commission and his father has nominated for ambassador in Washington, further attacked the French president, arguing he had appealed to an old picture to comment on the Amazon fires.
"Very serious!" For someone who is taking advantage of a situation for his own personal interests, attacking Brazil and its sovereignty in a vile, dishonest manner, going as far as appealing to a twenty year old photo to manipulate public opinion and spread terror, besides sponsoring a colonialist speech, what a low, cheap recourse"!
To have his nomination confirmed Eduardo Bolsonaro must get the approval of the Brazilian Senate foreign affairs commission.