Argentine opposition candidate Fernandez visiting Spain and Portugal
Tuesday, September 3rd 2019 - 09:47 UTC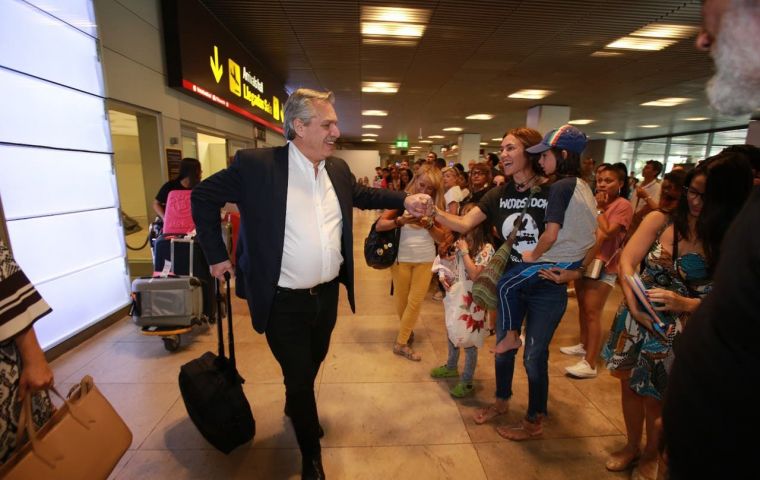 The leader of the Argentine opposition and favorite to become the next president in October's election is currently spending time in Spain and Portugal where he has an academic, political and rest and recover agenda, which begins this Tuesday at the Camilo Cela José University with a conference on politics and voters, "a perspective from the electoral campaigns".
Fernandez and his girl friend Fabiola Yañez will be hosted while in Madrid at the Uruguayan embassy, since ambassador Francisco Bustillo is a long time friend of the Argentine opposition candidate. Besides the Uruguayan ruling coalition has also felt more comfortable with any Argentine candidate that rejects President Mauricio Macri's market friendly policies.
Both leaving Buenos Aires and on arrival at Barajas in Madrid, Fernandez shared selfies with Argentine tourists as well as on board with aircraft pilots and staff.
Neither Fernandez or ambassador Bustillo made any public comments on the Argentine situation or the latest raft of measures on capital controls.
Following the Tuesday conference for graduate students at the Communications School of the Camilo Cela University, Fernandez will be meeting former Spanish Socialist prime ministers, Felipe Gonzalez and Jose Luis Rodrigues Zapatero, long time friends of Argentine politicians.
On Thursday Fernandez has been invited to an informal chat with Spanish president Pedro Sánchez at the Moncloa Palace, a rare privilege for a non elected president.
Following Spain, Fernandez and companion will fly to neighboring Lisboa for a brief vacation, although the Peronist candidate will be meeting Portuguese prime minister Antonio Costa, according to Argentine sources, on request from the premier.
Anyhow Fernandez is interested in going through what is considered a successful Portuguese experience in addressing a huge debt, organizing the economy and overcoming recession.