Spanish fishing vessel rams into the Falklands FIPASS while berthing
Saturday, September 7th 2019 - 09:04 UTC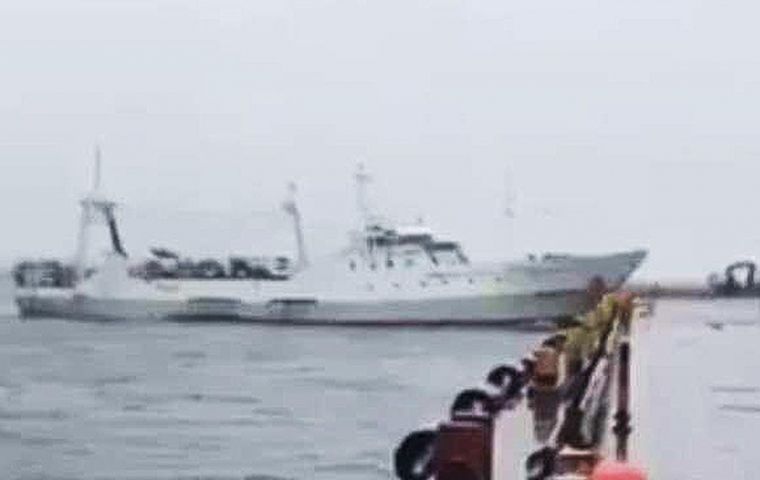 The reefer trawler Pesca Vaqueiro suffered serious damages to its bow when it rammed while berthing at FIPASS, in Stanley, Falkland Islands. The incident occurred early Thursday and the port facilities (Falkland Interim Port and Storage System) were closed for a few hours.
Apparently the collision happened when the vessel with a full cargo was berthing and it is not clear if it was the result of engine or steering failure. The vessel's bow sustained breached and dents above the waterline.
From Vigo the president of the Cooperative of fishing vessels owners, Javier Touza, said that "the important thing is that all crew members and FIPASS personnel are all safe and the damages suffered by the vessel are serious but she won't sink, the bow struck above the waterline".
Apparently according to Vigo sources a Falklands shore boat was guiding the Pesca Vaqueiro to its berthing place.
The reefer trawler now has to be repaired and there are two alternatives, Montevideo, Uruguay or return to Vigo. Anyhow Touza admitted there might be an evaluation of damages to FIPASS which will have to be addressed by the Vaqueiro brothers company.
Pesca Vaqueiro was loaded with a cargo of fish mostly hake, according to Galicia sources, and most probably will be heading for Montevideo, once the unloading has been finished.
At the time of the collision, there was only a reefer, "Baltic Purple" at FIPASS, which has since moved to Port William, next to Stanley Harbor. At 01:00 Saturday, (Uruguay time), the collided Vaqueiro and Baltic Purple were anchored at Port William.
In February this year Pesca Vaqueiro was involved in another incident: a collision with a Chinese jigger, FV Zhong Yuan YU 11, which sank. All thirty crew were rescued by nearby fishing vessels.
Pesca Vaqueiro was built in 1988, has a gross tonnage of 1.819 and is 76 meters long.