Uruguay hosting a cruise industry conference at the end of September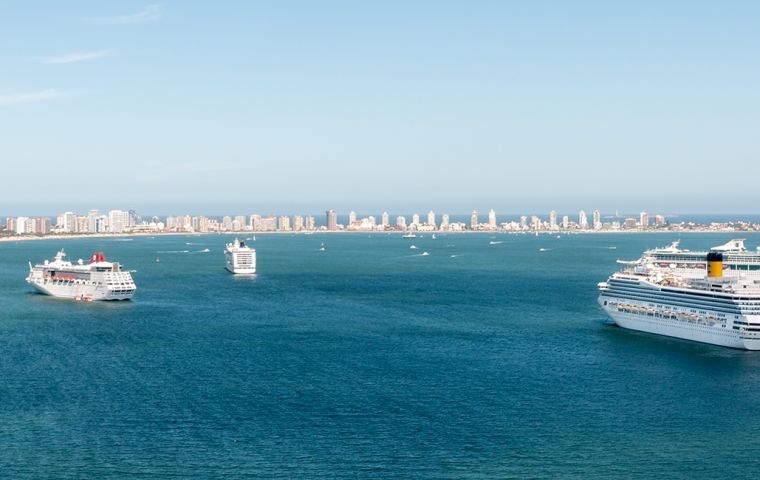 Uruguay will be hosting at the end of the month, September 26/27, the VII edition of the Regional Encounter of the Cruise industry and Fluvial nautical tourism, organized by Uruguay's ministries of Transport and Tourism the Ports Administration and county governments from Maldonado, Montevideo and Colonia.
This edition, meeting in Punta del Este, will focus on proposals to consolidate cruise tourism and nautical fluvial activities in the region, promoting theme tours and new destinations. Uruguay is much interested in sponsoring fluvial cruises to Colonia, just across from Buenos Aires, Carmelo and Fray Bentos where the meat industry started in Uruguay with the famed corn beef that was fed to so many soldiers in Britain's global conflicts.
Besides Uruguayan authorities and representatives from the private sector, international specialists and decision makers will be attending the meeting with several conferences scheduled.
Uruguay has progressed significantly with two main call ports for the cruise industry along the South American coast during the austral summer months. Tens of thousands of visitors have landed in Montevideo and Punta del Este, with an interesting percentage of repeaters, who return to Uruguay be it by cruise or on their own means, according to opinion polls from the Tourism ministry.
Despite some mishaps some few years ago, security has been increased and port facilities improved for the cruise vessels.
Currently the Montevideo port authority is working in a new Cruise Terminal taking advantage of the major overhaul of the port area to accommodate loading and transit facilities for a third pulp plant to be built in the center of the country and which will be sending exports by rail and sea. First shipments are expected in 2023. Likewise a new harbor for South Atlantic fishing fleets is also under construction.